Tees Valley Relay for life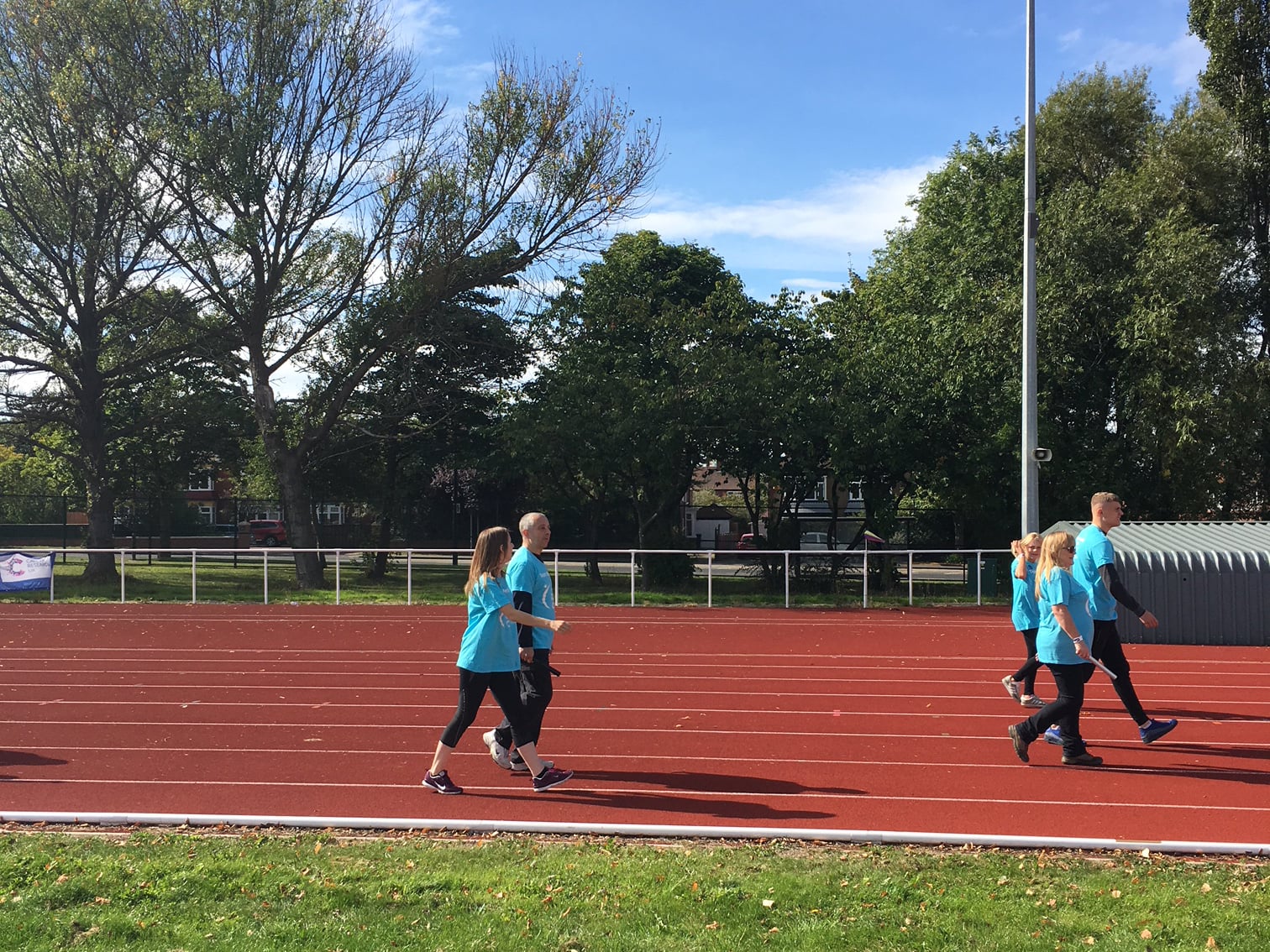 Next Stop Tees Valley
Following the success of the Jarrow, Relay for life. a number of our team couldn't wait until next years Relay and signed themselves up for the Tees Valley Relay. With only a short time for fund-raising and a much smaller team, than the Jarrow event, they managed to raise a respectable £565. Although we're expecting that to increase over the next week. (we will update the final figure after the fund raising deadline has passed.)
The Tees Valley event was chosen as it was five weeks after our MD's Gastrectomy. We were hoping it might help spur him on as he recovered from this major surgery. What an underestimation that was! We were thrilled to see him join us on the track and rack up 12 laps alongside his eldest daughter.
"It's moments like this that make the Relay for life so special and worth doing! When your walking alone during the night; your feet killing from the numerous laps you've already done… it makes it all worth while." – Aaron, Team Captain.
The rest of the Next Stop Santiago team was made up of Team Captain Aaron, Lucy and Callum… thats right folks! JUST three of them completed the majority of the 24 hour Relay on their own. Apart from a half an hour emergency, when the tent decided it wanted to be a blimp, the team were on track for the full relay.
The Laps
In total, the team racked up 357 laps of the track, totaling 142.8Km (88.7miles). Thats the distance from our factory to Leeds (well Hallifax). Our star Relay performance goes to Callum who totaled 101 laps of the track.
Callum totaled 40.4Km throughout the Relay. Thats an impressive 35% of the team total and the distance from our Factory to the Tees Valley Relay. In hindsight we wish we just set him on his way back home to save car space!
He doesnt know why- we think it was just pure Excitement- but he only managed 2 hours sleep the night before the Relay, which makes his lap tally even more notable. He tried numerous times to get some sleep during the day but his body just wouldn't let him. Despite all this he still managed to power through the night shift!
"It was a tough weekend, especially on just two hours sleep! But It was for a great cause and I would happily (and plan on) doing it all again"- Callum
In terms of night shift we decided to do 2 hour shifts from 11pm until the morning. Doing it this way meant that we could still get a block of 4 hours sleep and a shorter 2 hour nap.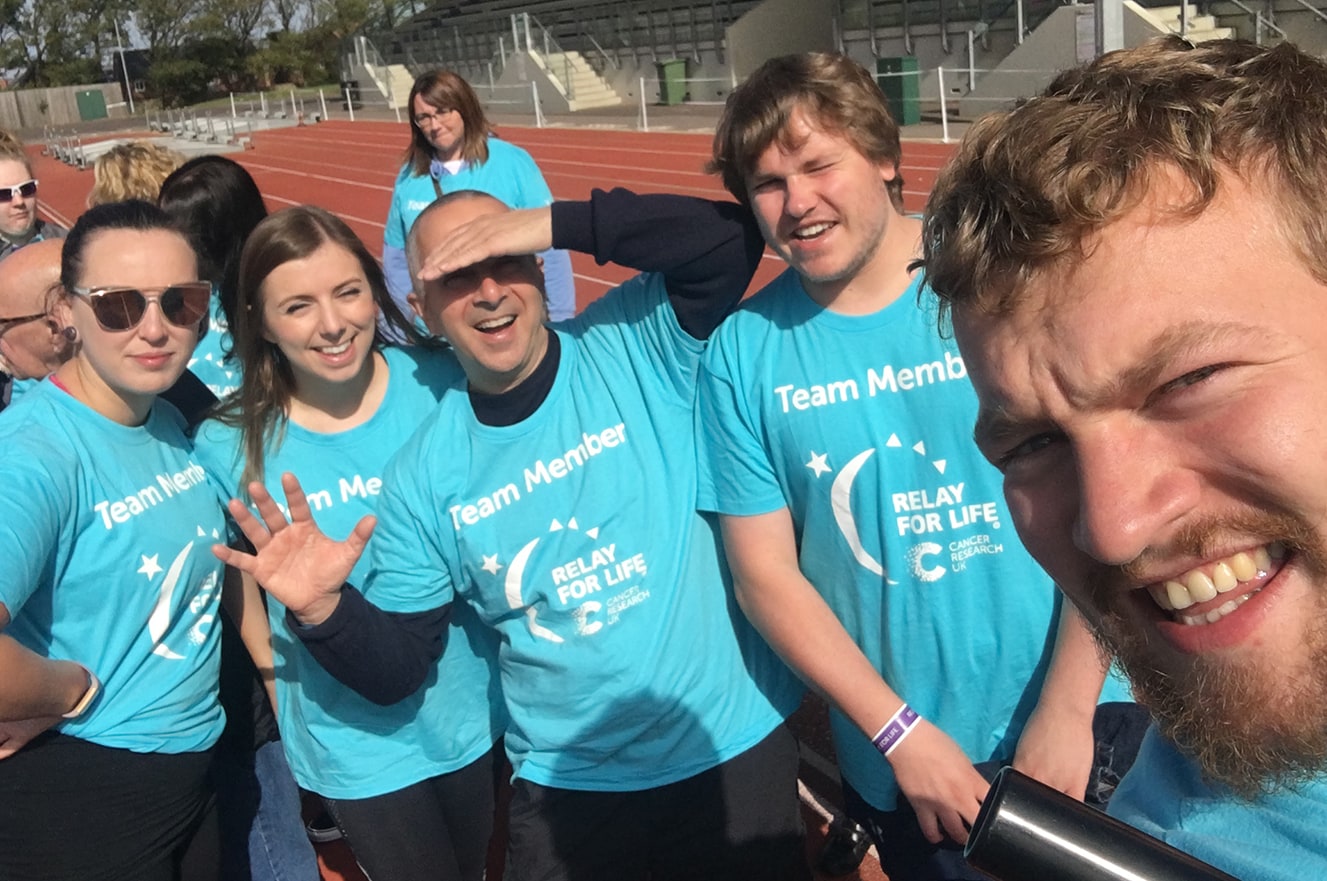 Storm Ali
The Relay started with the sun shining and everyone in high spirits! The laps were quick, fun and rocketing up in numbers. Then the night shift came! with the darkness came tiredness and aching feet. The laps got harder and the wind got stronger! the back straight of the track was great! you could make a sail out of your coat and get blown along for 100m. With the wind in your face though you could barely hear anything and each step was an effort.
During the night a lot of Gazebos were blown down and a couple of teams had to leave. Our tent just about made it through the night, although 2 poles were snapped from the constant beating of the wind. I think if we all had of been up together, we would have taken it down during the night. We were all just so tired we couldn't get out of our sleeping bags- unless it was our shift on track.
The motivation came around 7AM. We fought with the tent to get it down. We were proud to get it back in its bag and not wrapped around a tree or lamppost.
The Finish Line
Once the tent was away we still had 4 and a half hours left of the Relay. It definitely felt nice knowing the end was in sight and we didn't have to pack everything away though. Callum took back to the track and walked until he hit the 100 lap mark around 10am at which point both Aaron and Lucy took to the track. Aaron managed to squeeze in enough laps to hit the 99 lap mark, knowing that there would be a final closing ceremony lap. There might have been a touch of friendly competition but it was all for a greater cause.
"Being pipped by one lap really doesn't matter. We're a team and have had to be a team to complete this relay. We've all done amazing and couldn't have done it without each other."-Aaron
The closing ceremony wrapped the Relay up nicely and emphasized what a great cause it's all for. We may have not raised as much money as we did for the Jarrow event, but we're still proud of our total. Especially knowing that every penny counts and goes towards the fight against cancer.
As a team we are more motivated than ever for next years Relay for Life and are determined to smash what we raised this year! We want to go bigger and better in all aspects and have already talked about some great ideas. This years Relays have been about the fight against cancer; next years we pretty sure we'll be Celebrating the fight against cancer.