Relay For Life Completed… Next Stop Santiago
Well, we've just about recovered.
The aches from our legs, backs and feet finally cleared and the canteen kettle has proudly survived the recent over time its had to endure. Our first relay for life was incredible as colleagues, family and friends relayed together, in scorching heat, over the 22 hours to rack up a total of 672 laps of Monkton Stadium. *Insert pat on the back here*. This dedication helped Next Stop Santiago raise £3,273, for Cancer Research UK. Personal goals, new memories and new friendships were achieved and strengthened on each and every lap.
In the aftermath we've worked out that the team covered an astounding 168miles (270.8km) over the course of the relay. To put it into perspective, our team technically walked from Monkton Stadium to Birmingham (Well almost – as our Brummie Business Development Manager Jim likes to remind us) We walked to Wolverhampton just outside of Birmingham – Still as impressive.
Eight of the team endured the night shift to show cancer never sleeps, taking an hour each on the track. The others had the challenge of sleeping through deflating air beds or with no air beds at all. At one point we had 3 men sharing a very small double air bed.
Regardless, everyone woke up in good spirits especially with the arrival of our saviour Adrian who unexpectedly tagged in at 7am and was a huge help throughout the weekend.
At 10.00am after the awards ceremony, our team walked hand-in-hand to complete the final lap, all with a great sense of achievement.
"Hard work but totally worth it."
Personal Goals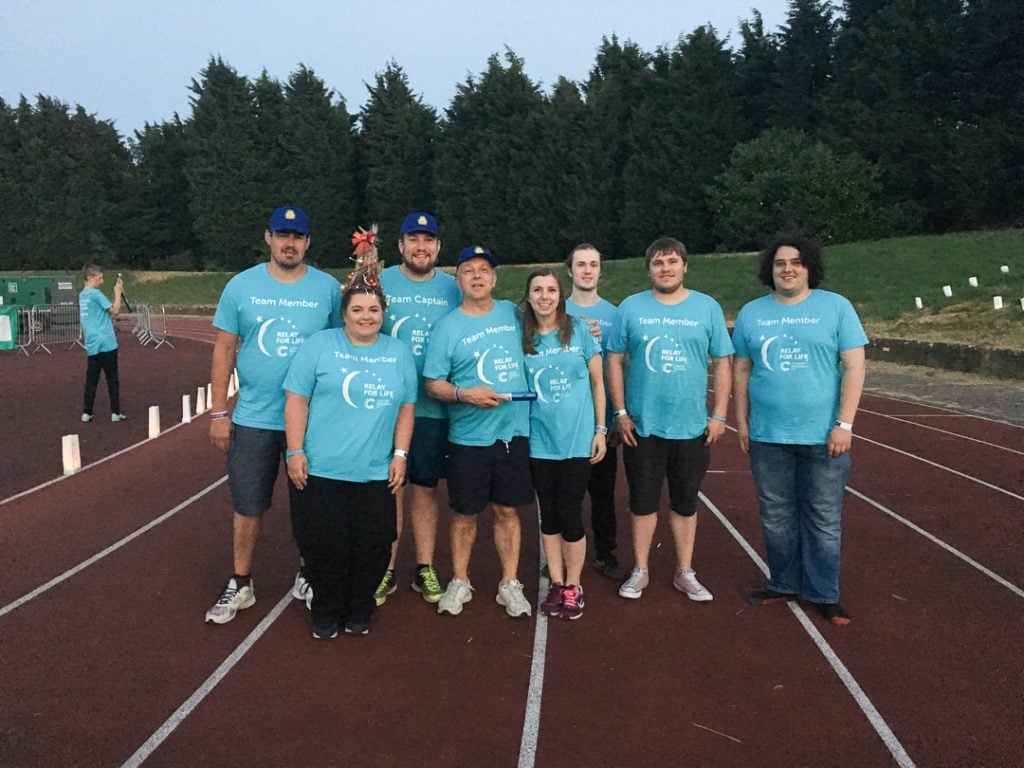 Leading up to the event the team set a target of walking 110km, the distance Eddie will walk on the Camino de Compostela de Santiago, next year. Well I am proud to say we had completed that before the half way point! In fact we ended up walking enough to make the journey twice!
Inspired by this challenge, prior to the relay, a number of the team opted to set themselves personal targets to achieve on the day.
Our team captain Aaron managed to run his first ever 10k after getting into running 3 months ago. He set a goal of completing it in under 1 hour 15 mins based on his best 5k time of 28 mins. He did it with 6 minutes to spare despite the blistering heat, smashing his target time! To go along with this amazing achievement, he racked up a staggering 68 laps (17 miles) for the team over the full event – That's more than the Great North Run!
Both Callum and Ryan set themselves targets to complete 50 laps (20km) each. They both achieved this and more; Ryan adding an extra 9 laps and 3.6km to his target. Callum adding an additional 6 laps and 2.4km to his target. They both played a big part in racking up the total distance completed by the team.
"Wonderful to meet and talk to so many people dedicated to fighting cancer''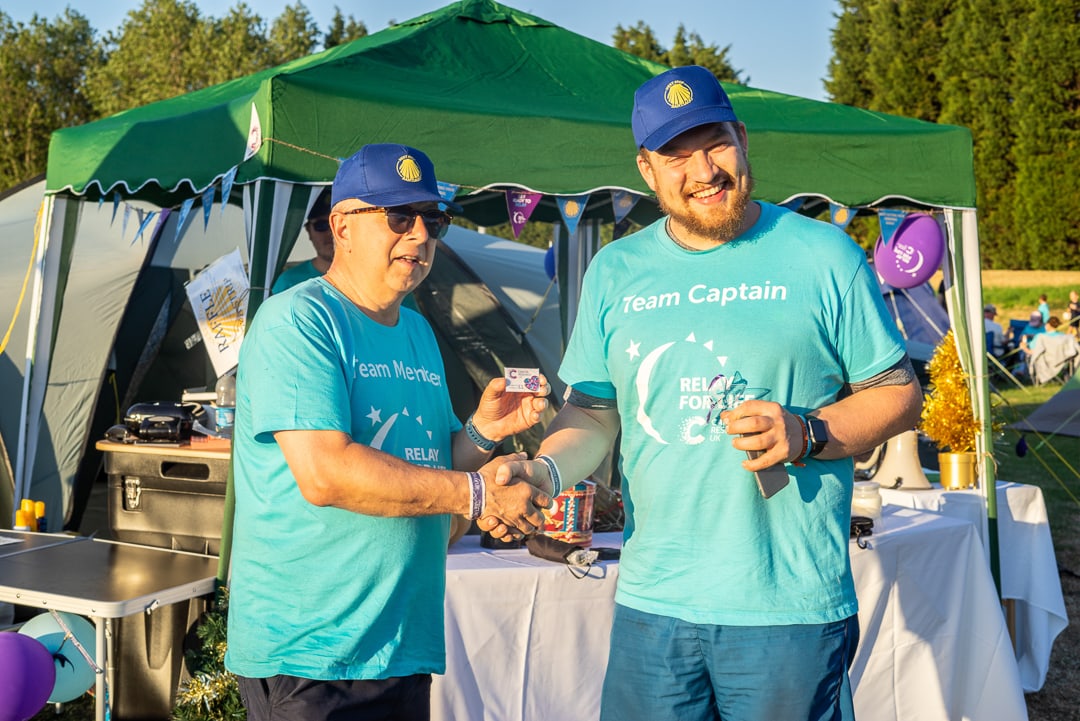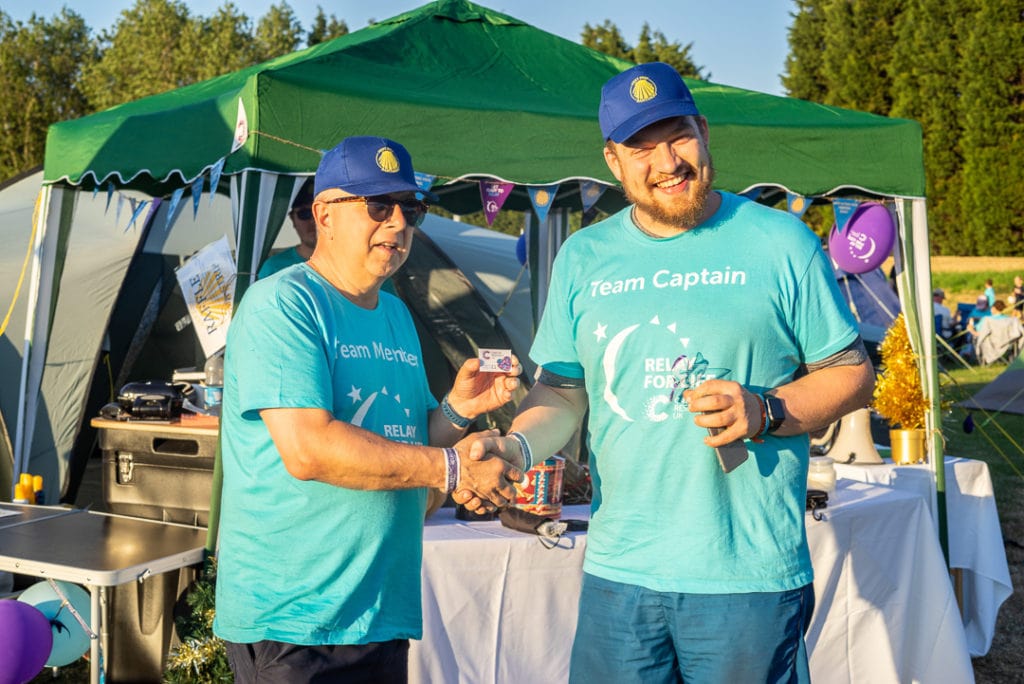 We couldn't have made it through the event without some key players so we would like to take this opportunity to add a few honorable mentions.The first would be to Our friend at Demob Job, Adrian, who racked up an amazing 48 laps! Our M.D's daughter Emma managed a staggering 46 laps, throughout the event and was always willing to tag in when the team needed a break (and also proved invaluable during the Midnight Christmas Quiz!). Her friends Beth (25 laps) and Pete (27 laps) rocked up 52 laps between them in the space of a couple of hours. Incredibly, ourSales Admin, Zoe (33 laps) and her partner Gary (27 laps) who were 30 hours sleep deprived travelling back from Marrakech when they came straight to the Relay for the night shift and racked up 60 laps between them.
Every single person who walked a lap deserves recognition and we would like to thank you all for your time and support during the weekend.
"Great exercise for a good cause, thoroughly enjoyable day''
Inspired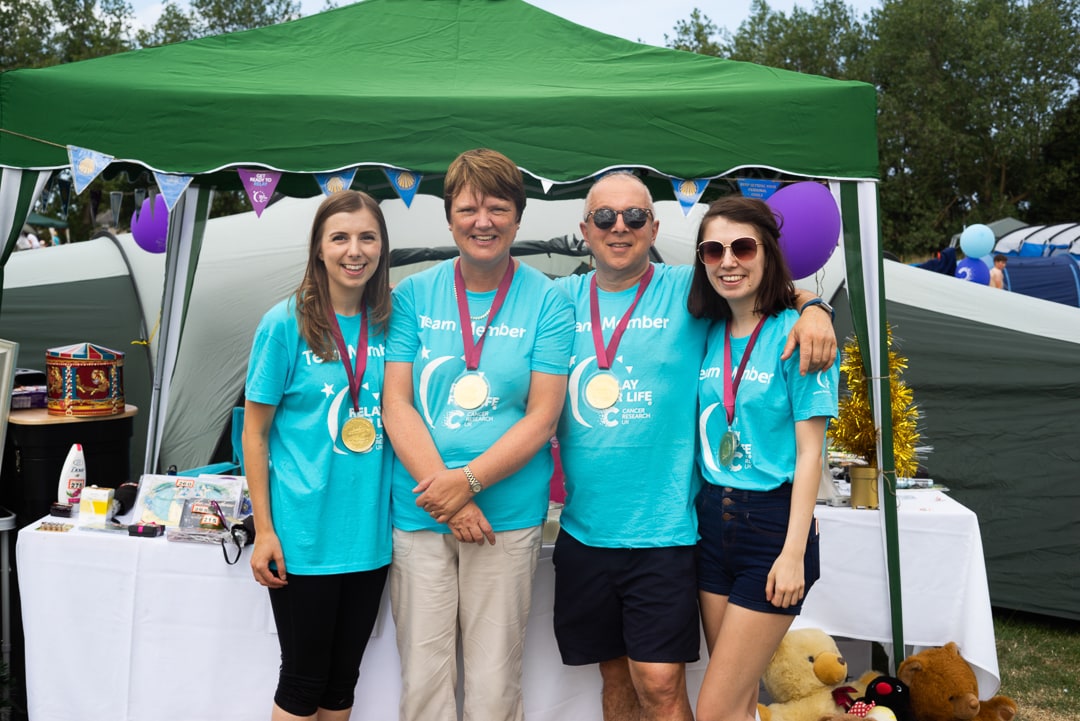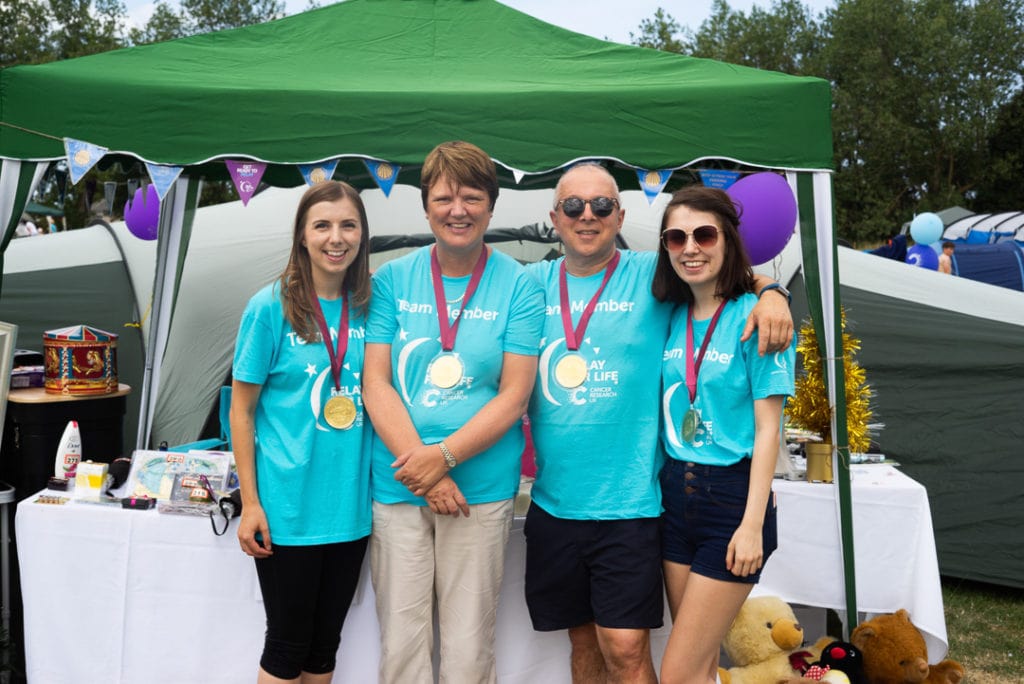 In the lead up to the event a number of staff set themselves personal challenges to achieve within the next year (2019). Our Team Captain, Aaron, wants to complete the 3 Peak Challenge. Lewis Wants to be able to run 5km under 25mins and Zoe set herself the target of running the Great North Run.
After completing the Relay we have seen a surge in personal challenges being made. Callum wants to run 5km at the Teeside Relay; Ryan wants to Run a Park Run Under 21 Mins and 42 Seconds (7 Min miles); joining a number of the Cell Pack team who have also started doing The Park Runs.
"It was great to connect with the cell pack team out-of-office and to be doing it while raising money for Cancer Research UK was fantastic – even worth hearing your boss snoring."
Next stop?
We were planning on the Relay being a one off. A short term target to achieve between Eddie's Chemotherapy and his Surgery, with the next stop for him being Santiago. However everyone enjoyed the day so much that we have decided we had to do it all again next year… but bigger and better!
Amazingly some of our team got so much out of the day that they cant wait until then. Like Superheros, they have signed up to do the Relay For Life: Teeside, in September. But we will cover that more in the lead up to the event.
"The day really made you pause for thought and thankful for everyone you have around you. The day was full of love and that's what made me love the day."
"Totally awestruck by the commitment and determination of all the people doing the laps of the track, each for their own reasons, particularly in the wee small hours of the morning, whilst the rest of the world was fast asleep. Memorable and inspiring in equal measures."