Disposal
Here are some facts about batteries and the environment:
Batteries account for less than 0.001% of domestic waste.
More than 98% of primary batteries now contain no heavy metals, such as mercury.
Current European Commission and UK government battery legislation is based upon control of heavy metals. The main battery types covered are two rechargeable systems; lead acids (used in cars) and nickel cadmiums.
The average household uses 21 batteries a year.
The UK generates 20,000 – 30,000 tonnes of waste general purpose batteries every year, but less than 1,000 tonnes are recycled.
What you can do:
For general household batteries, a number of local authorities now collect waste household batteries as part of multi-material kerbside collections, but if they don't then some retailers such as DIY shops and supermarkets have battery collection points at their stores.
Your local authority website should have a section regarding battery recycling, if they don't, contact them directly and enquire about possibly introducing a scheme in the future.
Otherwise you can get in touch with the battery manufacturer and they should be able to provide you with advice on how to dispose of your battery.
If you have a electrical and electronic equipment that is considered as waste, please read the section below for further information.
Waste Electrical & Electronic Equipment (WEEE) Regulations
WEEE is one of the fastest growing waste streams in Europe. In the UK alone, householders throw away around 1m tonnes of WEEE each year, which is enough to fill 6 new Wembley Stadiums. Much of this waste ends up in landfill, where the harmful substances it contains can cause pollution; but it is possible to reuse and recycle electrical items rather than send them to landfill.
In July 2007 the way this waste is managed changed with the introduction of the WEEE Regulations. The regulations aim to minimise the impact of electrical and electronic goods on the environment, by increasing re-use and recycling and reducing the amount of WEEE going to landfill.
To ensure waste electricals do not contribute to damaging the environment, they need to be separated out from other household waste so that they can be recycled. The WEEE Regulations make it easier for consumers to recycle old electrical equipment through a mixture of dedicated collection points at local civic amenity sites and new take back facilities provided by retailers.
Information for Householders
All distributors of EEE for household use, be they high street, mail order or internet retailers, have an obligation to provide information to householders about the separate collection facilities available to for WEEE.
When buying a new appliance, householders should ask the retailer how to dispose of their old equipment.
Some retailers provide an in-store WEEE take back service to the householder, free of charge, when supplying new EEE on a like for like basis I.e. kettle for new kettle or video recorder for DVD player Etc.
Most retailers have joined the Distributor Take-back Scheme (DTS), which is supporting a national network of Designated Collection Facilities (DCFs), where householders can return their WEEE. The DCF network is primarily based at local authority civic amenity sites. If the retailer is a DTS member it should be able to advise where the nearest civic amenity or household waste recycling centre is located.
If the retailer is not a member of the Distributor Take-back Scheme, then they should be offering in-store take-back services.
The Government expects all retailers of EEE to declare, if challenged by householders, whether they are providing take-back via their membership of the DTS or providing an in-store take-back service.
Collection on Delivery
Many distributors offer home-delivery services to the customer purchasing large and bulky items of EEE and as part of the service will collect an equivalent old product at the same time.
The UK WEEE Regulations will not affect this service. Distributors may continue to provide Collection on Delivery services to their customers, either free of charge or at cost depending on their own commercial practice/policy. The cost of collection should however only cover the transportation and handling costs. It should not cover the cost of recycling.
Symbol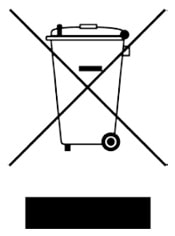 All new EEE (products or packaging) should be marked with the crossed out wheeled bin symbol. This symbol is intended to remind householders to separate their WEEE and dispose of it in a responsible manner and separately from other household waste.
The products that we sell that come under the WEEE directive are battery chargers and DC Power Supplies, these are generally small items and we are happy to take back any product we may have sold to you or alternatively take back your old charger or power supply if you are purchasing a new one. If you wish to do this then please contact us first so that we can issue you with a Returns Number. Please note the cost of returning the item to our premises is at your cost. We use the service of WEECO to collect our WEEE waste.
Please note we encourage you to dispose of your old items carefully and with respect to the environment, most local civic disposal amenities have very comprehensive disposal and recycling facilities. Contact your local council.
Please note that Batteries do not come under the WEEE Directive they come under the Battery Directive and should be treated as HAZARDOUS WASTE. Again we encourage consumers to use their local civic amenity and the growing number of local collection points.
Waste batteries should DEFINITELY not be sent in the post.
For local customers we will accept consumer batteries back and we absolutely guarantee that we do dispose of BATTERIES in the appropriate and correct manner.
Industrial Customers – Treatment of Industrial Waste
Please note that Industrial Batteries do not come under the WEEE Directive they come under the Battery Directive and should be treated as HAZARDOUS WASTE. Spent batteries should definitely not be sent in the post.
For local customers we will accept Batteries or Electrical Waste such as Battery Chargers and Power Supplies and we do guarantee that we do dispose of these items in the appropriate manner.
We are registered with the Environment Agency and our registration number is BPRN 01092.
The Waste Batteries & Accumulators Regulations 2009 – Industrial Batteries
As a producer of industrial batteries under the Waste Batteries and Accumulators Regulations 2009, we Cell Pack Solutions Ltd produce Alkaline, NiMH, NiCd and Lithium. We are obliged to take back free of charge, waste industrial batteries supplied to an end user for treatment and recycling. We are required to do this in any calendar year we place new industrial batteries on the market. If any of our customers or in certain cases other end users, require us to take back industrial batteries, they should contact us via email at info@cellpacksolutions.co.uk or via telephone on 0191 496 9999. We will agree the necessary arrangements for the return, proper treatment and recycling of the waste industrial batteries.
For full details of our Industrial Batteries Take Back Procedure please see our downloads page.