Relay For Life Jarrow 2022
Relay For Life 2022 ✓
It was incredible to finally get back to the Relay for Life after a 3 years hiatus. The team endured the heat and sun to rack up 559 Laps of the track and had a great time doing it! That's an incredible 223.6km (138.9miles) or the distance from the Cell Pack Solutions HQ to Ben Nevis (Scotland). Although the figure was down on our target, it was still an incredible achievement by the team. Especially when you take into consideration the extreme temperatures on track.
In the current Financial climate, fundraising is incredibly difficult and a number of Relay events have been cancelled across the country! Astonishingly, the team have raised £1750 to date thanks to contributions from a number of our partners (see below) and collections at events across the North East. You are still able to donate to our team until October 2022. The Jarrow Relay as a whole have raised £43,000+ toward Cancer Research UK.

It really was a special day and the whole team have certainly made some lovely memories! Callum walked an amazing 100 laps; Tracey, Steph and Amanda competed in the frozen T-shirt competition and the Cell Pack Family got to mingle with colleagues actual families! We even made the local press.
The team feel re-energised after this years Relay and are already thinking of next years! It's been many peoples first taste of the Relay for Life and it's an experience they wont forget. We hope that next year will be bigger and better!! The furthest we have walked is 218 Miles, back in 2019. We know we can beat that next year! Roll on 2023.
Build Up!
3 Years in the Making
We are preparing for the Jarrow Relay for Life 2022 this week and can't wait to get back on the Monkton Stadium track. It's been 3 years since the last event at Monkton, due to lockdowns. Which is why this years theme of "Celebration" is very fitting. We cant wait to be able to walk, run and dance around the track with our friends and colleagues again. It's been long overdue and really will be special!
If you've never heard of a Relay for Life then you must check out the Jarrow Relay Page. In short, you make a team, fundraise for the year and then celebrate at the end by walking for 24 Hours around a track. They really are a lot of fun and you definitely need to try it at least once! You can still join our team or drop in on the day to celebrate with us.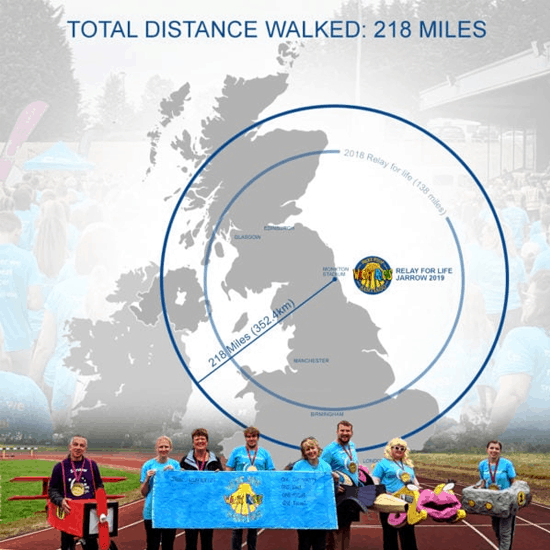 Lap Targets
The Relay for Life has become a real staple in the Cell Pack Solutions calendar, since our first one back in 2018. Each year we have used them as an opportunity to set a team distance to walk. Our Goal for this year is 250 Miles! Although this is down on the very ambitious target set after the 2019 Relay (500 miles), it's still up on the distance set in 2018 (138 miles) and 2019 (218 miles). In lap terms, 250 miles is 1006 laps of the Monkton Track.
So far we have a team of 19, meaning if we each done 50 laps we would hit our 250 mile goal. A number of these are children however so there will definitely have to be some stand out performances from some of our team members to make up for this. Our Creative Manager, Aaron and Export Sales Manager Callum have set targets of a minimum 100 laps each. While Tracey, our Production Manager and Technical Assistant Rob are both training for the Great North Run. This will surely help towards are laps target.
Thank you to our Suppliers
We have had fantastic support from our suppliers as always and have received a number of goodies to help with our fundraising. Tadiran have donated some goodies that are still on the way to us. Mascot have donated a brand new 3245 Lead Acid Charger available on our website. They've also included some of their new branded towels, that will come in very handy on the day. A special thanks must go to GP Batteries and Ansmann who have both donated torches and lights. These will be available at our stand on the day, with all proceeds going to our team target. Our fundraising target for this year is £2000, which we have been working towards all year through collecting at various events.
It will be a fantastic weekend so please pop down and say hello. Entry at Monkton Stadium is free and we promise you wont be disappointed. It looks like the Sun will be shining so remember to bring lots of water and sun cream. Just ONE sunburn every TWO Years can Triple your risk of melanoma skin cancer.