COVID-19 Latest Company Update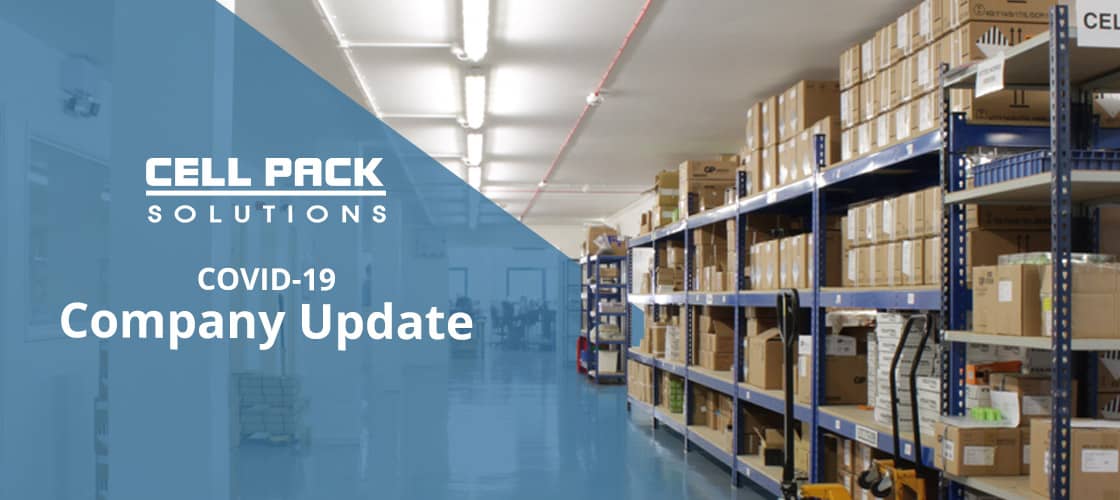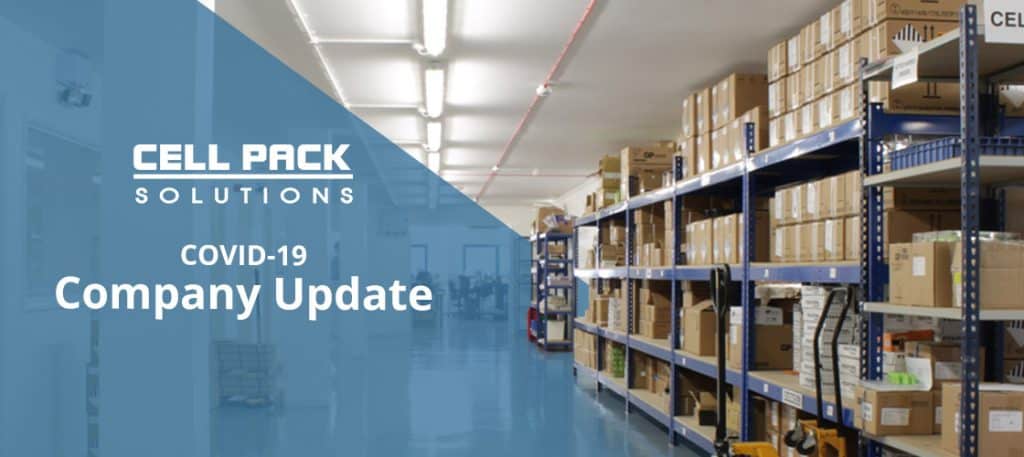 Update 5 January 2021
Cell Pack Solutions will remain operational throughout the latest lockdown. As a supplier to key industries we are working to prioritise these orders in a timely and safe manner. However, we are still taking enquiries and orders for all sectors.
Update 1 November 2020
As a manufacturer of goods to key sectors, Cell Pack Solutions will remain operational throughout the second national lockdown. The safety of our staff remains our number one priority while we continue to manufacture custom battery packs and supply key industries with batteries.
We are prioritising orders that are used by key industries, including Medical, Emergency Services, Security and the Utilities. We appreciate the patience and understanding of our customers and will remain committed to producing the highest quality battery packs as quickly as possible.
We are trying to limit local collections from our factory. If customers need to collect their goods in a time sensitive situation, they must phone in advance and arrange a time-slot for collection. Once on the premises, customers must remain in their vehicle while one of our team delivers the goods.
Update 13 August 2020
Our cut off time for orders to be dispatched the same working day is 2:00PM for "Parcelforce (Next Working Day)" (excludes orders containing Made to Order products).
Orders where "Royal Mail (1 – 3 Days)" has been selected will be dispatched the following day due to the drop off point closing at 9am. Orders placed on the Tuesday and Wednesday will be sent on the Thursday due to the Royal mail Depot being closed on Wednesdays. We recommend using "Parcelforce (Next Working Day)" if you need your order urgently.
Update 14 July 2020
We are now accepting international deliveries through our website but are expecting possible delays to the service.
Update 01 July 2020
Parcelforce have reverted to their usual returns and redelivery policy process for attempting delivery and holding of parcels.
You can keep up to date with the latest Parcelforce updates on their website.
Royal Mail have also updated their changes to service, view them on their website.
Update 11 May 2020
As the Government begins to ease the UK lockdown, Cell Pack Solutions remains to operate without disruption. A number of our staff are continuing to work from home and social distancing is being adhered to throughout our premises.
Update 9 April 2020
Parcelforce: We will not be accepting oversees orders on our website due to postal restrictions put in place by Parcelforce. For more information, please see International update on the parcel force website.

You can keep up to date with Royal Mail's latest on their website.
Update 7 April 2020
Parcelforce: We have been informed of changes to our collection time for Parcelforce orders. They will now collect orders after 12:00PM instead of 3:00PM. This means such orders placed after 11:30AM will be dispatched the next working day instead of 2:30PM. (These changes will come into effect from the 8/04/2020)
Royal Mail: We are now dispacthing Royal Mail orders the next working day (if you place on order on Friday, it will be dispatched on Monday). This is due to their new opening hours of 7:00AM to 9:00AM for drop off. Royal Mail have also closed their drop off point on Wednesdays, meaning orders placed on a Tuesday, will be dispatched on the Thursday, along with Wednesdays orders.
Update 2 April 2020
We have received an Important update from Parcelforce regarding the delivery of goods. They have informed us that if a parcel is not received by the customer, instead of making a second attempt and then holding onto the parcel for 14 days, they will now send the goods straight back to us after the first attempt.
If you or your company has any changes to it's opening hours/days, can you please inform us at the time of your order, so we can do our best to avoid missing the delivery.
Missed deliveries that are returned to us will be charged for redelivering the goods.
Royal Mail are also reducing the hours of the Customer Service Points in their delivery offices. you can keep up to date with the changes by visiting their website.
Update 24 March 2020:
As an integral part of the supply chain for many essential sectors, Cell Pack Solutions are continuing to operate with further measures in place to ensure staff safety.
19 March 2020
Cell Pack Solutions are continuously monitoring the situation around the ongoing Pandemic to ensure that our staff and customers health are at the forefront of our operations. To reduce the risk of spreading this infectious virus we have introduced procedures that allow the business to operate safely, with minimal disruption.
We currently have full staff safety on site, with new improved hygiene and transport procedures to minimise the spread. So far, business is operating as usual in every respect of operation. If the situation occurs which results in our staff working from home, we would like to reassure you, we benefit from having a sophisticated IT system that allows us to do so.
While we have managed so far to have minimized the impact on our supply chain, we are now receiving news that our European suppliers in France are temporarily stopping production on advice from their government. In our case this affects some SAFT and ARTS Energy products. Hopefully this is a short-term measure.
The situation in China is showing some signs of improvement with GP production gradually increasing; however, it is currently anticipated for the backlog of orders to be cleared by July, and orders resume to a new 'normal'.
Please be assured we have stock currently available with more on order/on route to cover normal demand. We are facing a slight influx of consumer cell and battery pack orders and kindly ask for our customers to work with us and assess their stock levels from now until August on all products and submit Purchase Orders to secure available stock as this will now be available on a first come first serve basis.
Like most people, we are dependent on national couriers, Parcelforce and Royal Mail to continue distributing orders. As of the 19 March 2020, both Parcelforce and Royal Mail are still operating but delivery times may be affected. Collections are also possible by pre-arrangement only.
We are hoping to remain open for business throughout this difficult period and intend to update our customers and staff when appropriate. However, we are and will be guided by the prevailing Government and Public Health England Advice. Please visit the News section on our web site for further updates.
The Cell Pack Team