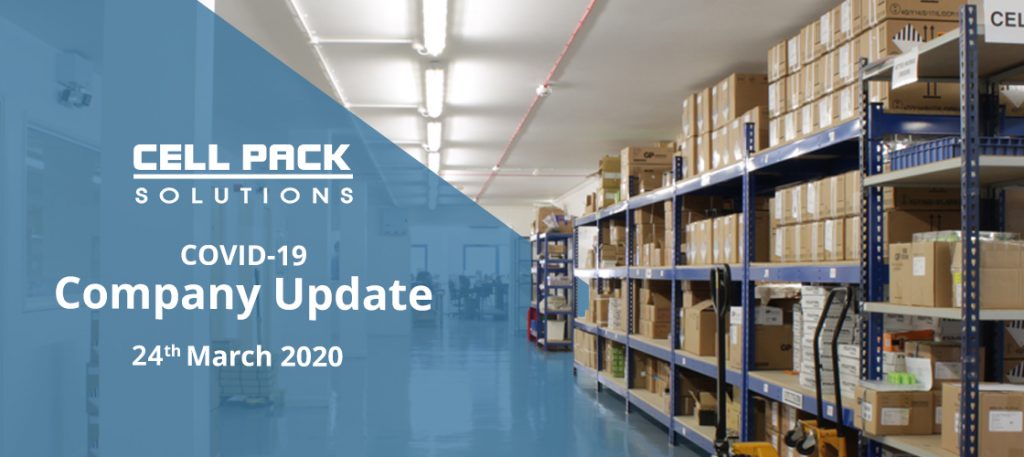 Update 24 March 2020:
As an integral part of the supply chain for many essential sectors, Cell Pack Solutions are continuing to operate with further measures in place to ensure staff safety.
19 March 2020
Cell Pack Solutions are continuously monitoring the situation around the ongoing Pandemic to ensure that our staff and customers health are at the forefront of our operations. To reduce the risk of spreading this infectious virus we have introduced procedures that allow the business to operate safely, with minimal disruption.
We currently have full staff safety on site, with new improved hygiene and transport procedures to minimise the spread. So far, business is operating as usual in every respect of operation. If the situation occurs which results in our staff working from home, we would like to reassure you, we benefit from having a sophisticated IT system that allows us to do so.
While we have managed so far to have minimized the impact on our supply chain, we are now receiving news that our European suppliers in France are temporarily stopping production on advice from their government. In our case this affects some SAFT and ARTS Energy products. Hopefully this is a short-term measure.


The situation in China is showing some signs of improvement with GP production gradually increasing; however, it is currently anticipated for the backlog of orders to be cleared by July, and orders resume to a new 'normal'.
Please be assured we have stock currently available with more on order/on route to cover normal demand. We are facing a slight influx of consumer cell and battery pack orders and kindly ask for our customers to work with us and assess their stock levels from now until August on all products and submit Purchase Orders to secure available stock as this will now be available on a first come first serve basis.
Like most people, we are dependent on national couriers, Parcelforce and Royal Mail to continue distributing orders. As of the 19 March 2020, both Parcelforce and Royal Mail are still operating but delivery times may be affected. Collections are also possible by pre-arrangement only.
We are hoping to remain open for business throughout this difficult period and intend to update our customers and staff when appropriate. However, we are and will be guided by the prevailing Government and Public Health England Advice. Please visit the News section on our web site for further updates.
The Cell Pack Team