Support Battery Recycling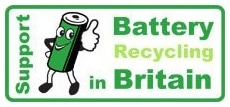 As a responsible company involved in the battery industry, we have for many years had to treat waste batteries as hazardous waste and have had to have it collected and disposed of by legitimate companies.
Usually our waste batteries are a by product of our product refurbishment service, a service by which have been able to extend the working life of other products such as rechargeable shavers and toothbrushes.
We are currently waiting for the final version of the Battery Directive before we decide which compliance scheme to join. In our investigations we have company across the BatteryBack scheme which seems to offer small businesses, schools and organisations, a free battery collection service. Many local authorities now offer battery collection facilities also.
As a company, we are very conscious of our environmental responsibilities and support battery recycling. We have currently begun the process of working towards the "ISO 14001 Environmental Standard" to compliment the "IS0 9001 Quality System".
We actively promote the use of rechargeable batteries, these are can very economical and can save lots of money in applications such as digital cameras.
We all need to do our bit in increasing the small percentage of batteries that are recycled each year. The government would like to see this rise to 25% within a few years.