Exploring the Cosmos – Sandcastle Challenge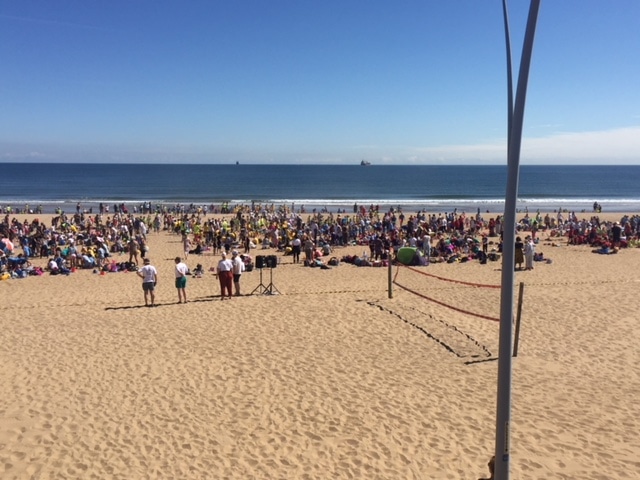 We were delighted to be teamed up with Marine Park Primary School in this years Children North East's Sandcastle Challenge. It was the first time we've taken part in this event, but it definitely wont be the last- Especially if the weather is as good as this years.
The theme for this years event was Reach For the Stars- Exploring the Cosmos.The children Imaginations ran wild (as always), transforming South Shields Beach into a mini Galaxy, with Alien Villages, Black Holes and Moon Landings.
Over 1500 children filled the beach, across 111 School teams. Each team was given an Hour to create their design that they had worked on, in the weeks previous. As the starting hooter rang, children swarmed to the sea to collect water, to make the sand workable. Others stayed back and began marking out where things would go on their 4m squared plot. It was well organised chaos but after the final hooter sounded what stood were all amazing sand sculptures.
Why Sandcastle Challenge
The Sandcastle challenge is a great day out for all involved. It allows the children and staff to get outdoors- something we could all benefit from. Creativity also flourished as the teams had to problem solve throughout the challenge.
Jeremy Cripps, Chief Executive of Children North East, said:
"The Sandcastle Challenge is always a fantastic event. The children have such brilliant ideas and are so enthusiastic creating their designs on the beach. The Sandcastle Challenge also creates hidden opportunities – meeting business people is great for extending school relationships and continues to help us raise awareness of the life-changing work Children North East does with children and young people."
Neither of our teams won a prize on the day but everyone left winners, after all of the fun! It is an event we will look forward to, next year… That is, of course, after we enjoy the celebratory Sandcastle Ball in September.