Ansmann maxE+ PP3 (8.4V) 250mAh Rechargeable Battery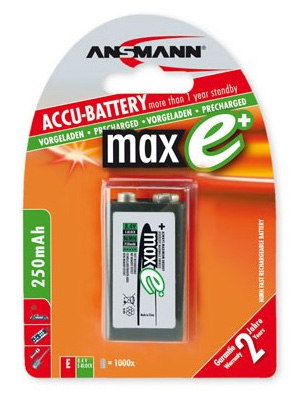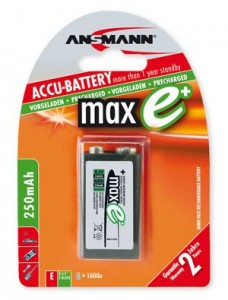 Ansmann rechargeable products have always been known for their ability to hold their charge in comparison to other leading competitors and this is reflected even more so in Ansmann's maxE range of products.
As the title would suggest this Ansmann maxE+ PP3 (8.4V) Rechargeable Battery is 250mAh. It can be used in a wide range of applications from cameras to electronic testing equipment but if you do have any queries about the application of this product, you can contact us.
This product is promised by Ansmann to have three main advantages using maxE technology as opposed to other rechargeable batteries. The first of these is being pre-charged so you can use it straight out of the packet (don't worry if it doesn't have full charge, we would recommend a full charge before the first use of this battery anyway), secondly a low self-discharge rate (meaning that whilst not in use the battery will retain the majority of its charge) and finally a high current source.
If this battery is not the one that your looking for you can check out our Ansmann maxE Rechargeable Batteries Range or alternatively check out our Ansmann Battery Chargers Range on our Online Shop.