Custom Lithium Battery Packs
We have specialised in the design and manufacture of custom lithium battery packs for over 20 years. Working alongside both Tadiran and Saft, the leading cell manufacturers of Lithium Thionyl Chloride, we have assembled custom battery packs that have endured the harshest of environments, reliably powering critical applications.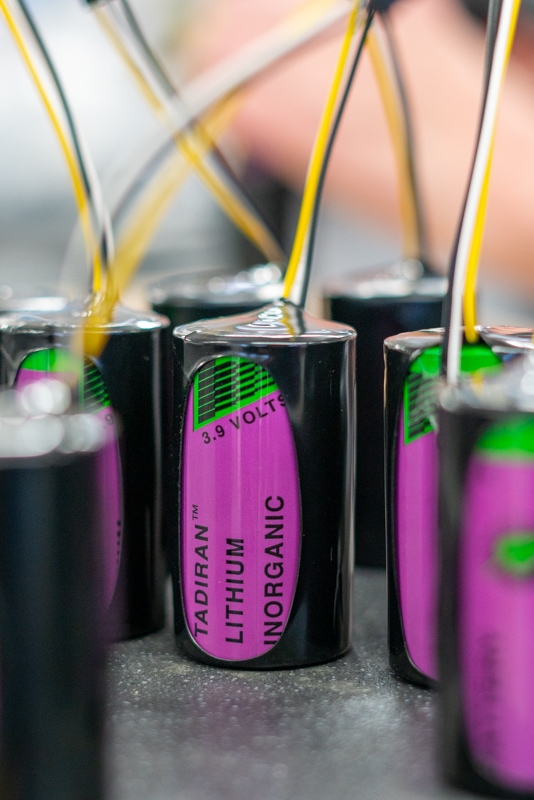 Why choose Lithium as your Custrom Battery Pack chemistry?
Energy
Lithium has the highest energy density of all the battery chemistry. Meaning lithium batteries can output more energy than any other cell of the same size. Making them perfect for applications that require high-energy and high-voltage. Primary lithium batteries last much longer compared to other Primary chemistry such as Alkaline. Tadiran Lithium Thionyl Chloride batteries have been proven to last up to 40 years.
Weight
If weight is a key consideration to an applications design, Lithium batteries are the first choice. Lithium is the lightest element, making the cells and battery packs that use it much lighter compared to other chemistry. It's why you often find them in portable devices.
Operating Temperature
Lithium batteries operate in the widest temperature range of all batteries. For example, take Lithium Thionyl Chloride, most standard cells have a wide operating range from -60°C to +85°C but high temp versions (Tadiran Sl-500 Series) of the chemistry can operate up to +130 °C. Compare that to Alkaline Manganese Dioxide's operating temperature of -18°C to +55 °C , lithium is clearly far superior.
Self-Discharge
All batteries loose charge over time, even when not in use, this is known as self-discharge. Lithium cells benefit from a low self- discharge rate, meaning they can be stored for much longer compared with other chemistry.
In low power applications, the low self-discharge of lithium cells can become a factor to increasing the operation life of the equipment and reduces the need for maintenance.
Primary and Secondary Lithium
Their are a number of different types of lithium battery. The easiest way to break these down is into primary lithium (single use) and secondary (rechargeable).
Primary Lithium battery packs
The most common primary lithium battery chemistry we use for our battery packs is Lithium Thionyl Chloride (LiSOCl2). We supply these mostly to the Utilities, Oceanographic, Tracking, Internet of Things (IoT) and Medical Markets.
We also manufacture a number of Lithium Polycarbon Monofluoride packs for back up power in machinery.
Secondary Lithium Battery packs
Lithium-Ion is a rechargeable chemistry and is mostly used in mobile devices and electric vehicles. Cell Pack solutions supply a range of Standard Li-Ion Battery Packs.
Custom Lithium Battery Design and Assembly
Assembled in the UK, our custom battery packs use only the highest quality cells from around the world. Designed in-house, by our dedicated engineers. Our team can guide you through the design and manufacturing process to create the perfect battery pack for your application. You can view the process on our Custom Battery Pack Services page.
If you want a custom lithium battery pack we are here to help. Speak to one of our specialists or fill in our battery pack design form.