Relay For Life Jarrow – 3 Month Update
We're 3 Months into our fundraising efforts for this years Relay for Life. So far, we've been raffling, baking and hiking our way to £1,572, of our £5000 total. During that time, we've had some fantastic individual efforts and are forming some company traditions along the way. Here's a quick snapshot of what we've been up too:


World Cancer Day Tesco
For World Cancer Day, we were given the opportunity to sell bands, bags, pins and handmade easter chicks at Clayton St Metro Tesco. Staff were incredibly welcoming and the Geordie public were as generous as ever! Despite Racking up an impressive £152, the real highlight was having the opportunity to listen to peoples personal experiences with cancer. Especially hearing how many brave people have battled and won their fight. It really brought home the difference Cancer Research and other great charities have made and continue to make in combating cancer.
Gail Climbs Skiddaw
Our intrepid Wonderer Gail has definitely been the most adventurous fundraiser so far! Despite the cold and snow she climbed all 3,054 ft to the summit of Skiddaw, the 6th highest mountain in England. She battled the freezing February conditions head on and made it to the top with a numb nose and frozen toes – all worth it as she's leading the way with her fundraising total of £307 and climbing, with more planned in the coming months.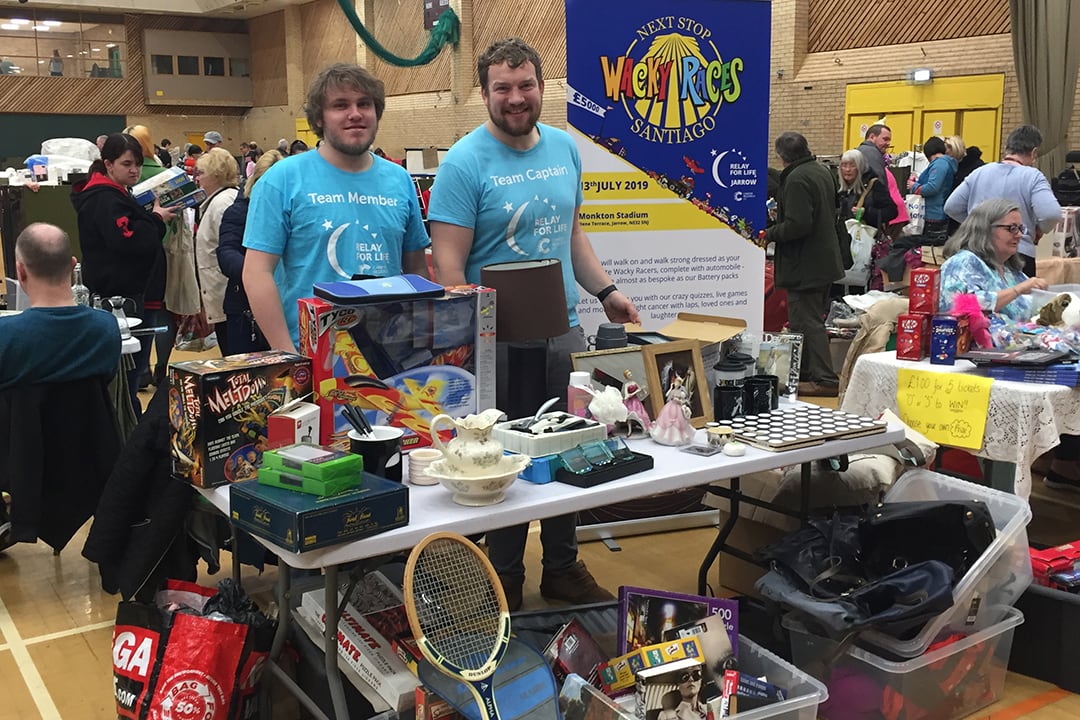 Car Boot Sale
We've been clearing out our lofts, sheds and cupboards to find those hidden gems to sell at Temple Park Car Boot. There was nothing to get David Dickinson excited about but Callum's unicycle stole the show… unfortunately he refused to give us a demonstration.
We tried our best to get Callum and Aaron to wear their Wacky Racers outfits but they opted for their Relay T-shirts. You'll definitely see the duo dressed as Dick Dastardly and Mutley at the Relay, along with the rest of the Wacky Racers.
March on Cancer

As March drew to a close, the team joined their fellow Relayers in a March against cancer. Starting at Roker Pier, the team walked 6 Miles along the stunning North East Coast to South Shields pier. Two of our team used the event to raise £100 through family sponsorships.
It was the perfect way to spend a Sunday afternoon (despite a 10 min rain shower at the finish line). We even had a real life Mutley join us for the walk in the form of our Team Captains' Dog Ernie. He isn't the best at posing but can pick the perfect time to do a number 2… 20 Meters after the start line if your wondering, right in the middle of the crowd! When you've got to go…
Raffles, Scratch Cards and Healthy Dinners.
Some of the less photo-worthy, but equally effective ways we've been raising funds have been:
Monthly Cell Pack Dinners- Our Health advocates take it in turns to cook a hot and healthy meal for everyone at Cell Pack and asks for a small donation. So far, we've had Chicken Curry, Chilli, Fajita's. Next up we have Lasagne on the menu.
Special Occasion Raffles- Zoe's been unleashing her creative side and made a Valentines day hamper. It went down so well, shes followed it with Mothers day and Easter hampers.
Cancer Research UK Scratch cards- Zoe's been unleashing her creative side and made a Valentines day hamper. It went down so well, shes followed it with Mothers day and Easter hampers.
With just over 4 months until the relay, we've still got a long way to go if we're going to hit our target of £5000! Bare in mind though, this time last year, we hadn't even heard of the Relay for life and still raised a respectable £3,273. Watch this space!
---
How to get involved
There's many ways you can get involved in this years Relay for life and we highly recommend you do:
1) Join us as Tesco turns Pink
Our next fund raising event will be on the 6th April. We'll be heading back to Clayton St Metro Tesco for Tesco Turns Pink.
If you would like to join us, please email our team captain for more details.
2) Just show up
You can simply show up on the day of the Relay and soak up the amazing atmosphere. It's a great day out for the family, but we must warn you, you will get addicted and want to go every year!
3) Join our team
You can join our team and help fund-raise towards our total. Don't worry, dressing up as a wacky racer isn't compulsory and you can walk as many or as little laps of the track as you want. Just email Aaron@cellpacksolutions.co.uk to receive instructions and password to join our team.
4) Sponsor our team
You can donate to our team through the Cancer Research website. Also keep an eye out for opportunities to sponsor racers cars.