Modern Apprenticeships, David Miliband, Cliff Richard and Gargoyles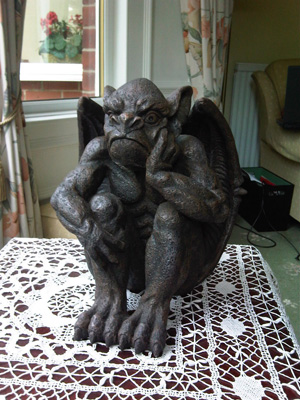 I attended a business breakfast hosted by NECC at the New Harton Sixth Block today. It is an excellent venue, reminded me of my old school (not). Only kidding, my school, in those days, could have been best described as being full of Victorian character. That was is in the good old days when teachers were allowed to beat politeness in to students, but that's another story.
Today's event was about modern apprenticeships. David Miliband led the event and it was nice to see he is trying to generate more interest in the borough. My own personal feeling is that there is a lot of great potential and that there are lots of companies quietly doing their bit.
Our company got a mention, which is always nice, although it always seems to have been the case that whenever I see David. He seems to remember meeting my company when we were first established and employed only a few people, so we get referred to as an Small and Medium Enterprise (SME). Things have moved on a million miles since that time. We now employ 20 people and we have some fantastic plans for the future, hopefully to be revealed shortly. We were chosen as Company of the Year in South Tyneside last year and have followed that this year with a something shortly to be revealed.
Not bad for a little company and a great testament to the team of people that collectively continue to push my company forward. I was reminded of the fact that my very first employee was a young 16 year old, who after 2 years with me, left to join the council as a trainee plumber on an apprenticeship. He went on to become apprentice of the year and now 12 years later he is still employed by them and has just got married. David may not remember meeting him because at the time he had just been parachuted into the borough. We were among one of the first companies he met on his tour of TEDCO. I am pleased to say that we have continued to thrive and that David kept his promised and has continued to fight his corner for the borough.
We ourselves have just appointed what I would class as our first modern apprentice, he hasn't actually started yet but I have high hopes for him. Hopefully, he will be the start of many more Apprenticeships. Anybody that knows us or knows my approach to business will know that I am extremely ambitious. The easiest way to get on in our company is to match our ambition with the right attitude. I do think that whilst I may not agree with the raising of the tuition fees for university education, it will mean that in the next few years there will be some heavy competition for the apprenticeship schemes.
Watching Cliff Richard on The One Show, he claimed that his best birthday present was a Key Ring Torch. If any of you want to buy your loved one a similar item then take a look at the LED Lenser K3 (8313) Key Ring Black Torch (Gift Box). In that vein, I thought I would share an image of my best Father's Day present. It currents sits quietly in our front room although my wife is threatening to relegate it to the garden, with me following it.