Did Anyone Catch The Pigeon At This Years Relay For Life?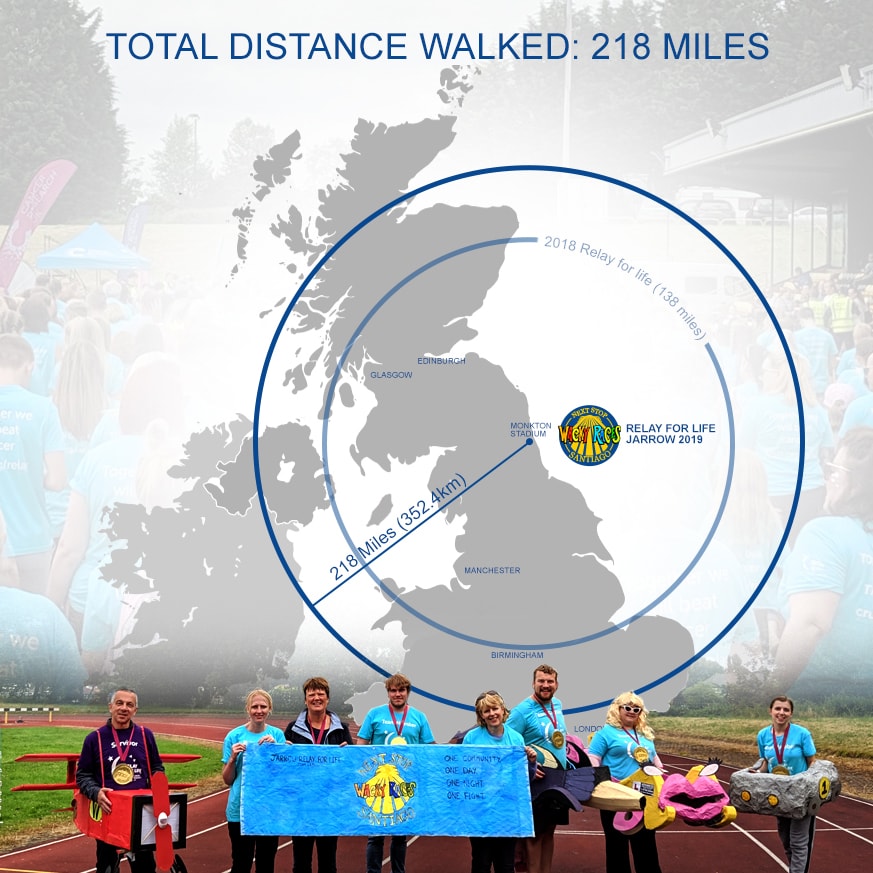 On top of the usual fundraising, this years Relay for Life saw our team work tirelessly to create their cars and costumes. With the Wacky Races as our inspiration, we had visions of Dick Dastardly and Muttely hurtling towards the finish line. Could they finally win? Of course not! This is the Wacky Races. Instead, they catastrophically throw it away on the final bend and the crowd goes wild as Penelope Pitstop crosses the line. As the last week approached, the team added the finishing touches to their incredible creations. We had the Mean Machine, Compact Pussycat, Boulder Mobile, Buzzwagon and the Crimson Haybaler.
Unfortunately, the weather played its part in this years Relay for Life, limiting the amount of laps we could parade our cars around the track. But when we were able to, they certainly turned heads and raised a lot of smiles.
Our Goals
We set our ambitions high for this years Relay and although we didn't quite reach them, we certainly smashed last years efforts. As a team we walked, raced and at times swam 218 Miles (80 more than in 2018). Among those miles were four personal 5K's and a 10K run.
Dressed as The Pigeon, Karen walked 103 laps of the track- that's 25 miles! It's safe to say that she made it incredibly difficult to catch the pigeon! But Muttley (Claire) and the Slag Brother (Emma) managed to match this incredible achievement! Earning them all the joint title of Top Relayer.
Our Top Fundraiser this year went to Gail. In the run up to the event her enthusiasm was infectious and her fundraising efforts included climbing Skiddaw and Scafell Pike to raise £500 of our £4,000 total. If you would like to donate to our efforts there is still time.
Thank-You's
A huge thank you must go to all of the companies that sponsored our Relay cars:
We must also thank Simon who entertained a number of Relayers with musical instruments on the Main Stage. If you enjoyed his half hour session, you can catch him at Durham Brass Festival with Back Chat Brass.
Next year
We were left a little disgruntled by not hitting our target of 500 Miles, even though it was a big ask! We can't be defeated so we are more determined than ever to achieve the magic 500 Miles next year! To achieve this we would have to complete 2011 laps of the track as a team, or just over a 100 laps each if we have a team of 20. It would be a mammoth effort! but if the weather plays nice we're sure we can do it!