Abseiling for Cancer Research UK
The Team Abseiled 35m from Blyth Wind Turbine
In an extraordinary display of courage, some of the Cell Pack Solutions team embarked on an exhilarating adventure on Sunday Afternoon (25th June). Scaling the heights of Blyth's training wind turbine, 8 daring individuals participated in bright reds abseiling event to raise funds for our Cancer Research Relay for Life 2023 Team. It was a brilliant day out and we even had some of our extended family (our teams actual family) sign up on the day, to take on the incredible challenge.
Leading up to the event their was a slight misunderstanding where we thought the Training Turbine was only 35ft (approx. 10m). However it became very clear as the team drove onto the training facility that the Turbine was definitely 35m high. The blades towered over us as we pulled into the car park and the nerves well and truly kicked in for some of the team. Our Relay Team Captain and Marketing Manager Aaron tried his best to give his place away to no avail. Especially when some of the extended family who came to support us expressed a desire to take on the challenge themselves. Aaron was devastated when they were allowed to sign-up without taking his place!
Despite the initial jitters, the team rallied together and successfully completed the challenge with some unforgettable moments:
Aaron (unknowingly) mimicked Boris Johnson's infamous Zip Wire incident (google it).
James looked like action man on his descent.
Steph screamed out she wanted to go faster all the way down.
Kelty abseiled down with the skill of a seasoned professional.
Nicole slowly lowered herself down until she opened her eyes, loved the view and nodded confidently the rest of the way.
Margy added a touch of dance with occasional leg kicks during her challenge.
Barry zipped down like a pro, making it look effortless.
Kerry, following in her mother's footsteps, kicked her legs out as she rappelled.
Ryan channelled his inner Arnold Schwarzenegger and glided down smoothly.
Aarons first-hand experience of doing the abseil
Minutes felt like hours waiting for our turn to gear-up to climb the turbine. Words of support were passed around those taking part, just like the laps we'll be completing in the upcoming relay.
Finally, the moment arrived, and we were split into two groups. To add to my anxiety, there was a last-minute switch of harnesses to ensure a proper fit. We were shown how to clip into the 35-meter ladder before starting our ascent—an exhausting and formidable challenge in itself.

After navigating the ladder and additional safety ropes, we emerged from the turbine into the bright sunshine, greeted by the howling wind and approaching thunderstorms. Taking a brief moment to absorb the breath-taking view of Blyth and the docks, you were soon snapped back to reality and prepared to descend.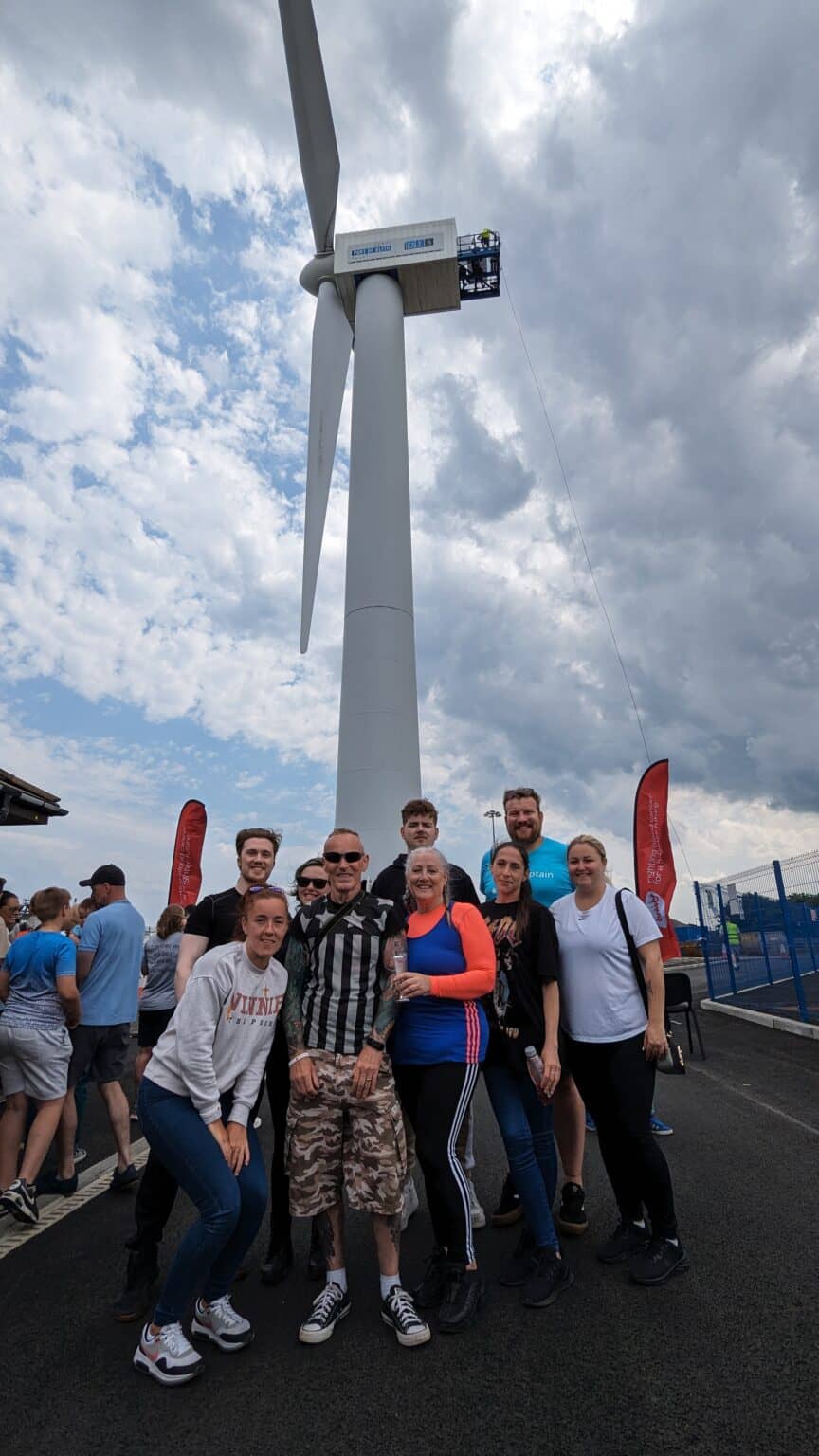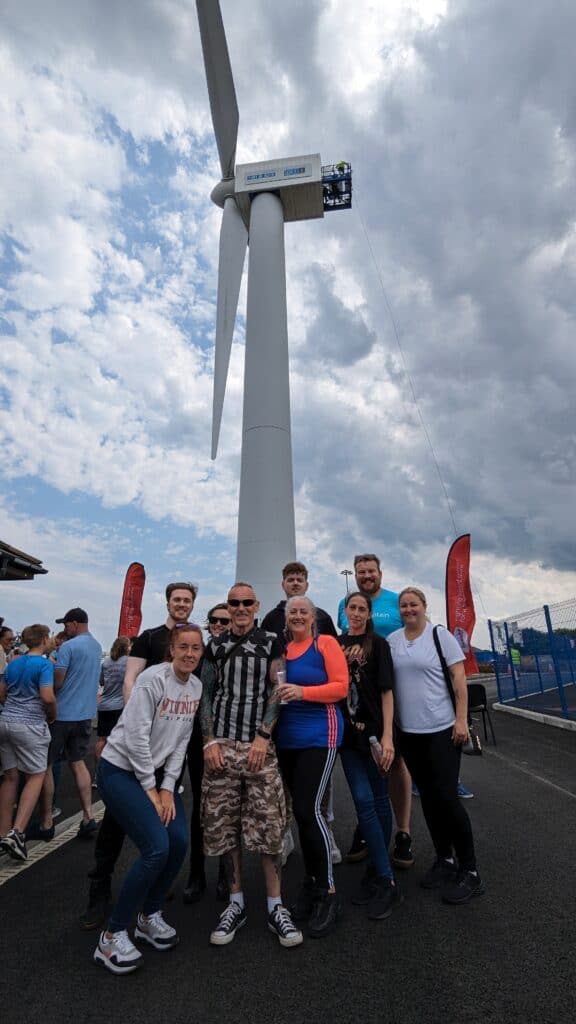 The professionals supervising the abseil were excellent! Somewhere between instructing you of which rope to hold, and what to do, I'd climbed over the railings and were sitting back in my harness, ready to descend. Despite telling them many times that "I'd never abseiled before" and "I didn't know what to do" – they'd somehow managed to get me over the edge (the most difficult part) without telling me how to actually repel! In hindsight, this made the whole experience incredibly easy.
I'm glad I was the first to go so that I didn't get the opportunity to psyche myself out waiting at the top.
The feeling coming down and having everyone cheer you on was amazing. Before you know it your at the bottom and wanting to go straight back up to do it again. Questioning why you were so nervous to begin with. I'm glad no one would take my place, which forced me to do it. It was an amazing experience and the buzz still hasn't wore off.
Join us at the Relay
We invite you to join the Cell Pack Solutions team at Relay for Life 2023. By coming together as a community, we can make a difference in the fight against cancer. Together, we can raise funds for crucial research, support those affected by cancer, and make memories!
Remember, Relay for Life is open to everyone until the Candle Ceremony, after which only registered participants will continue walking through the night. Please stay until the closing ceremony if possible to fully experience the spirit of this incredible event.
Let's walk, let's remember, and let's fight cancer together!
Join our team or donate