Kris Takes Huge Step to Success!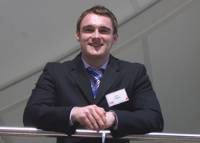 A BUDDING businessman has taken a Step in the right direction after winning an award – and bagging a job.
Kris Hayes, 22, of Harton, South Shields, was recognised as Most Enterprising Graduate at the regional Shell Step finals on Friday. He completed the Shell Step eight-week placement programme with Cell Pack Solutions, based at TEDCO in South Shields, and is staying with the company as Business Development Manager. To read the full story click on the SHIELDS GAZETTE link.
Well Done Kris!
Published Date: 26 August 2009 By Leah Strug.