Camino De Santiago Virtual Walk
Our Managing Director was due to walk the Camino De Santiago this year, after being diagnosed with Stomach Cancer 2 years ago. He counts himself as one of the lucky ones; Chemo Treatment, a total Gastrectomy and Post Chemo Treatment, within 6 months saw him ring the bell.
Unfortunately the pandemic has caused a number of treatments and diagnosis to be postponed. Eddie's plans to walk the Camino are easily changed. If anything, It's something to look forward to achieving next year instead. But for all of the people facing postponed treatments, these are even scary times than usual.
With this in mind, Eddie wanted to raise money and awareness for the NHS. Especially the Oesophagoose campaign (which increase awareness of Gastric Cancer); the fantastic staff on Ward 19 at the Royal Victoria Infirmary and for all of those waiting for treatment and diagnosis.
Instead of walking the Camino de Santaigo, he is walking the Camino de SantiGarden. Over the next 28 days, he will walk the length of the Portuguese Way Route (280 km) using his garden and our factory as his footpath.
You can donate or keep up to date with his fundraising on his official JustGiving page.
Week 1 Update- On track
First week down and Eddie is on track to reach the 280 km and has raised £323. His steps are up from a weekly total of 36,778 to an impressive 106,891. Almost 3x his usual amount since lock-down.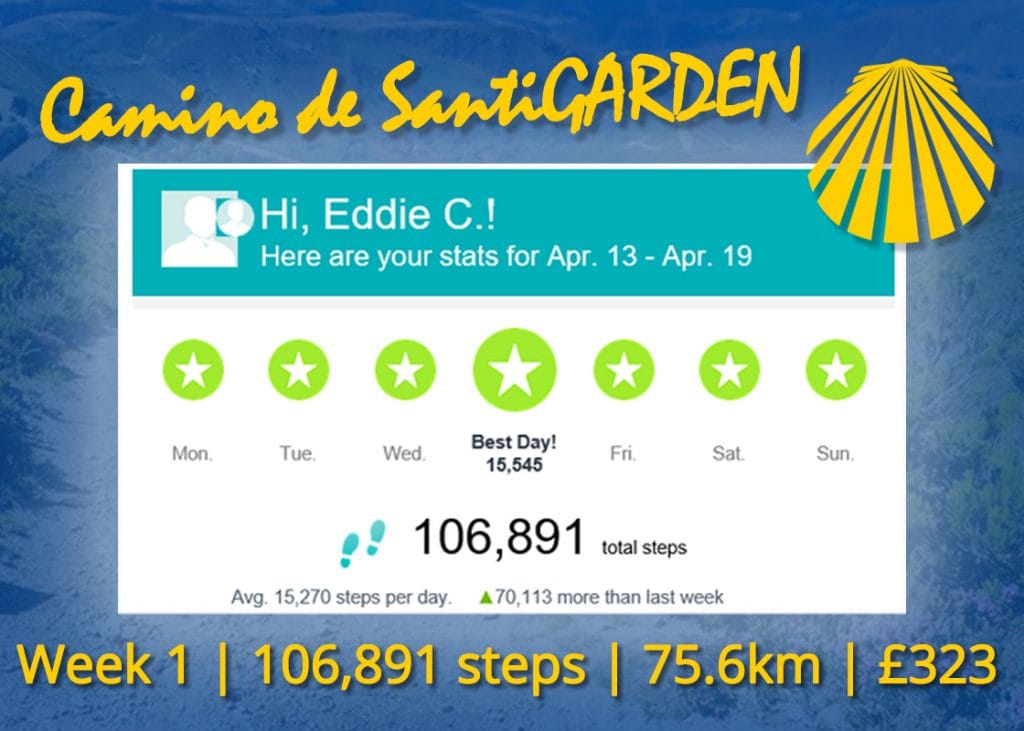 Week 2 Update- Dreams of red shoes, Saveloy Dips and Tetley's
Eddie is 2 weeks into the challenge and doing incredibly well. So far, he has raised £433 and completed 155 km of the route.
Walking seems to be the perfect time for reflection and has been causing some pretty peculiar dreams. You can read Eddie's 2 week update below.
I am now past the halfway point of my virtual Camino de Santiago. It's all downhill from here, I hope.

I have been reading a lot about people having weird dreams, during the lock-down. I have to say that up to now I've been going to bed so tired, I hadn't remembered any dreams. My body clock has been turned upside down since lock-down. Sometimes in bed by 9 pm but up every day by 6 and into work for 7 am.

Last night was different though, I woke up with vivid recollections of a mad dream. It was probably triggered by Alfie Joey interviewing a Dream Doctor on Radio Newcastle and my daughter telling me about people taking cans of lager to their favourite pubs. They're Taking selfies outside in the pubs garden to remind them of the good old days.

My own dream had me dressed up as a New Romantic, wearing red slipper shoes. I was walking to visit all 28 Dicksons butchers Shops in the North East, eating a saveloy dip outside each one. Sounds crazy, but then I remembered that in my Student days I done something similar. I once won a Tetley's beer T shirt for visiting 20 different Tetley Pubs around Bradford, drinking a pint in each. I used to wear it proudly, along with a pair of red shoes that I wore incessantly.

Dreams are often just recollections and memories stored away in your brain, brought back by chance discussions during the day. What happened to the shoes? My wife eventually threw them out when I wasn't looking and the T shirt eventually faded and disintegrated.

This Covid Virus has a lot to answer for. I miss those shoes, I miss the Tetleys, but more than that I miss the Saveloys.

12 more days to go

Eddie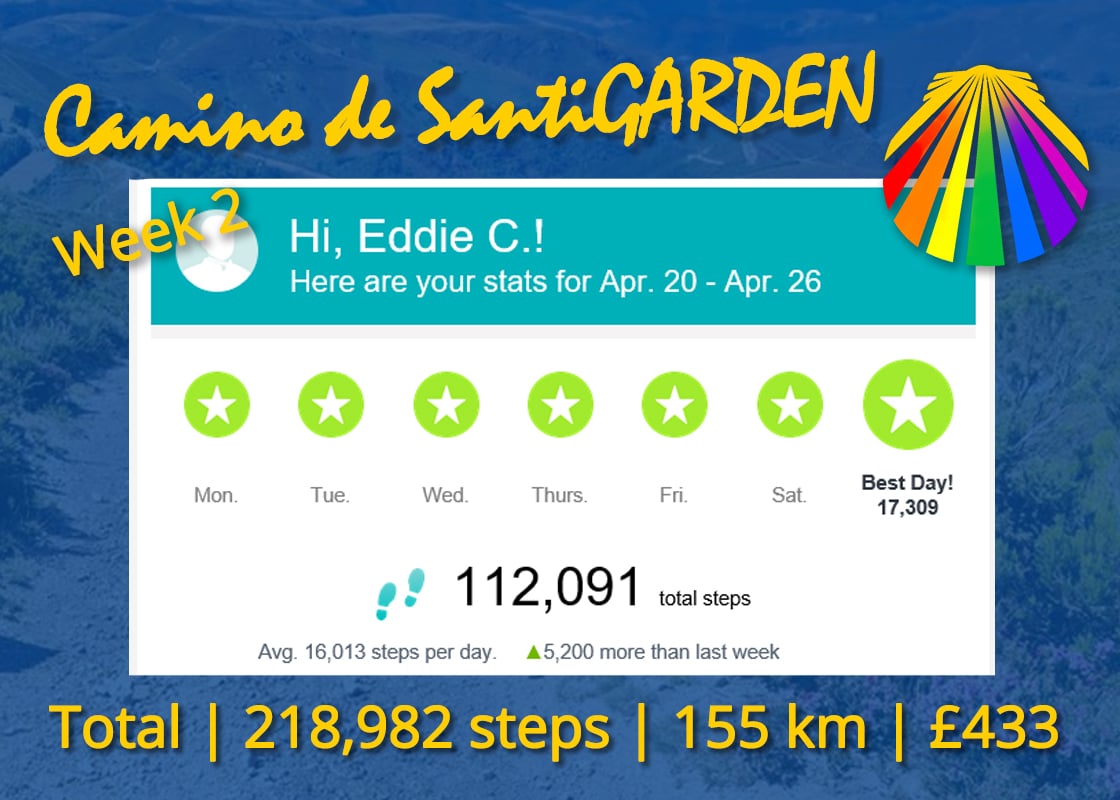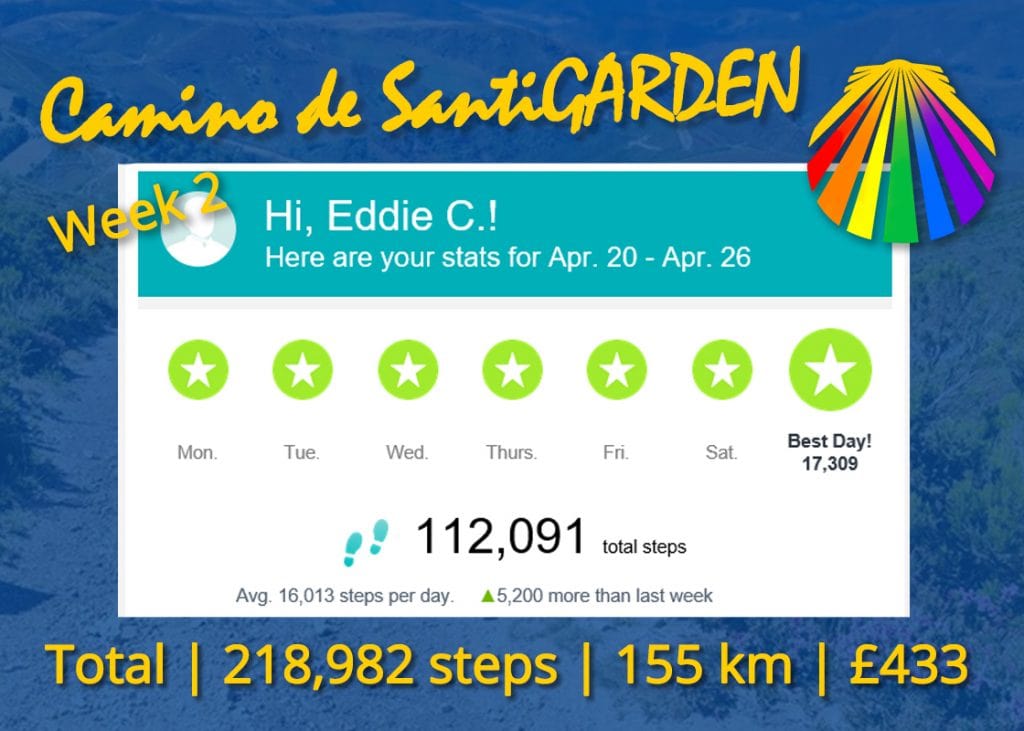 Week 3 Update- The Finish Line is in Sight
Eddie is 3 weeks into his 280km SantiGarden challenge, with only 41.8km until the finish line. Each week, he is walking further and further, adding an extra 5,000 steps on last weeks total.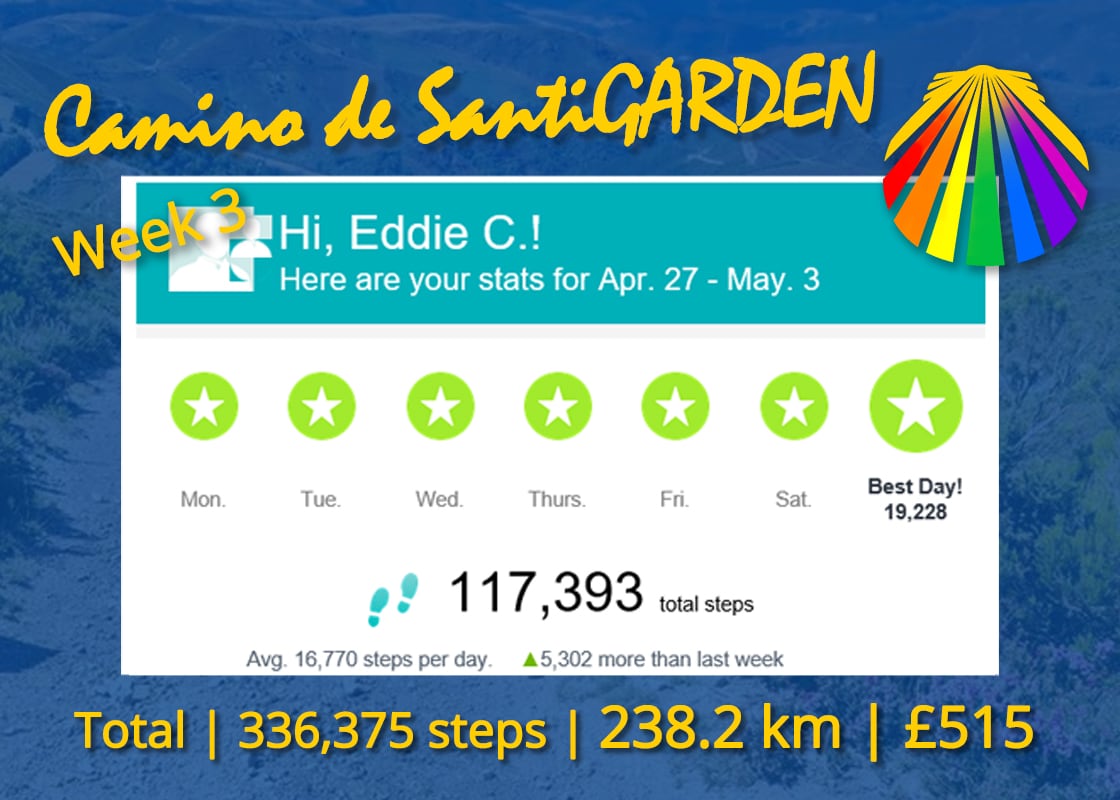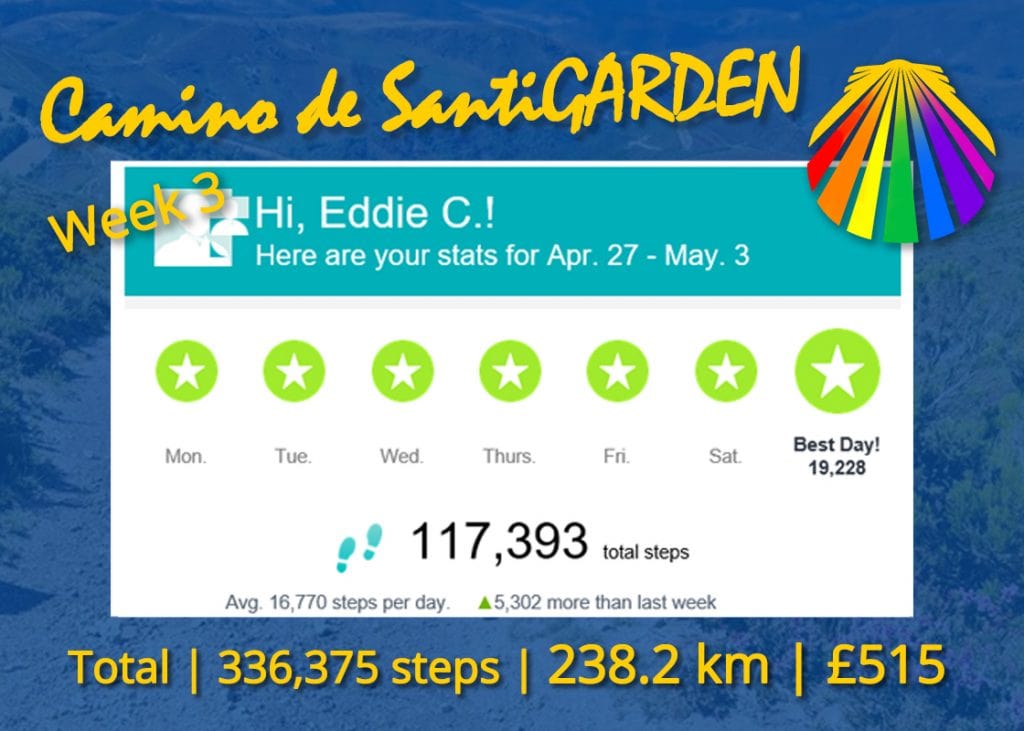 Week 4 Update- Completed and Then Some
Well, week 4 of the SantiGARDEN walk has seen Eddie achieve his original target of 280km and then some, an extra 36 km to be precise! A fantastic achievement that didn't come without it's challenges. Eddie was forced into a rest day in the final week of the walk but came back stronger with a huge 23,104 steps in a single day! The highest amount of steps out of all 4 weeks.
He was spurred along by the incredible Back Chat Brass in their #BedroomBrass No.7 -Move Your Feet video
Now that the Challenge is over Eddie is looking forward to getting back to normal and give his legs a well deserved rest.

You can still donate on his official JustGiving page.