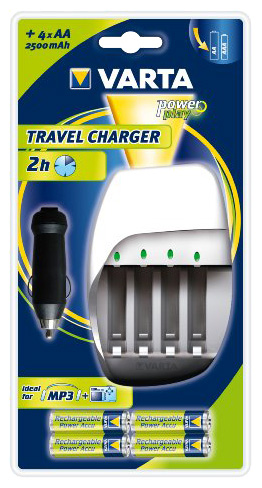 We have a fantastic special offer from VARTA for you. This VARTA travel charger will charge your batteries in 2 – 4 hours and comes complete with 4 x VARTA Rechargeable AA 2500mAh batteries. High capacity and fantastic quality from one of the worlds leading battery manufacturers.
Below are some of the features from this battery charger:
Charges max 4 batteries at once
1 – 4 AA or 1 – 4 AAA batteries
Ability to charge AA 2700mAh / AAA 1000mAh
Timer + Minus Delta V + Temperature control
Fast charging (2 – 4 hours)
Desk Charger
Global Voltage – worldwide use (110 – 240V)
4 LEDs (1 for each cell)
Car adapter
Bad cell / Alkaline / Wrong polarity detection
You can pick one of these battery chargers up from Cell Pack Solutions for only £9.99!