Duracell have not long released three brand new device chargers and here at Cell Pack Solutions, we realise you don't want to pay excessively to charge your devices on the go so for a limited time only we are offering 1/3rd off all three of these devices, so why don't you read the specifications below and see which of the three Duracell device chargers is right for you!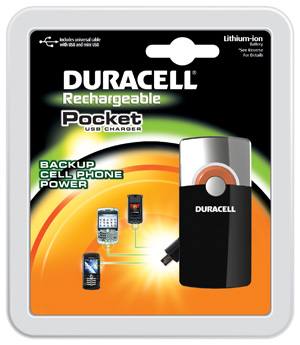 The Duracell Pocket Charger is the first of these device chargers and is appropriately named as it is the smallest out of all three, but don't let the size of this device fool you as it can give your mobile up to 40% charge! More detailed specification for this item includes:
Retractable mini-USB arm to charge all your compatible mobile devices
Very compact in size
500 mAh Capacity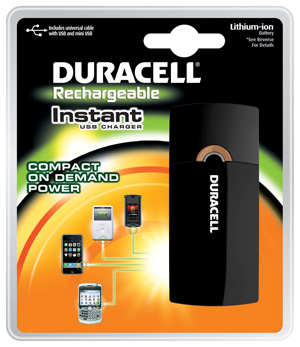 The Duracell Instant Charger is a revised version of a previous Duracell device charger and has been re-designed to provide you with lightning speed instant charging for your mobile devices. Take a more in depth look at the features of this product and see just how handy it can be!
Included mini-USB cable to charge all of your mobile devices
The USB out port means that this device can charge things other than devices compatible with mini-USB, with the manufacturer's cable, such as an Apple iPod.
1150 mAh capacity to keep your devices going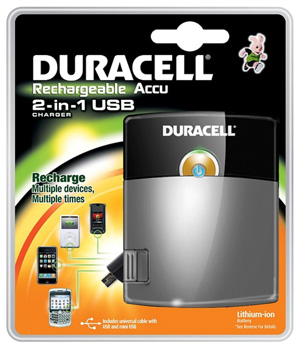 The Duracell PowerHouse Charger is the most powerful of all three new device chargers by Duracell. This thing packs a punch providing charging for two mobile devices simultaneously with the integration of a retractable mini-USB arm as well as an included mini-USB cable! This device also includes the following:
Capable of charging devices not compliant with mini-USB standards by the use of a manufacturers cable
Provides most mobile phones with an incredible 100% charge
An outstanding capacity of 2000mAh!
Be quick to grab a bargain on these chargers while the offer lasts. Prices start from just £15.05 inc VAT!
If it's not a device charger you are looking for, you can check out our fantastic range of our Duracell Standard Battery Chargers Range on our Online Shop.