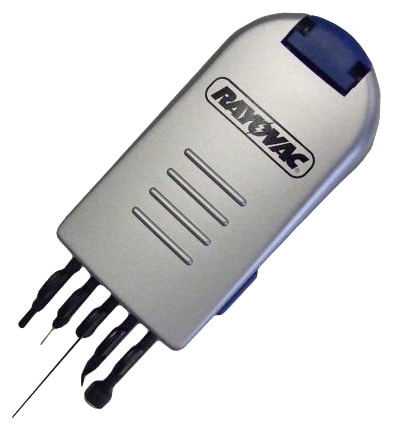 The Rayovac 5 in 1 Hearing Aid Cleaner is an essential item to anyone who wears a hearing aid temporarily or on a daily basis. There are five things on this impressive tool which will come in handy quite often for those of you who like to keep your hearing aids in tip top condition.
This tool includes both a brush and a pick for removing wax and other debris that may be stuck in the hearing aid; the brush is used to clear the majority and then the pick to reach those small hard to reach areas.
Next up we have a tube and vent cleaner which does exactly what it says on the tin keeping all tubes and vents in the hearing aid clear to help maximise performance.
Finally this tool includes a battery door opener and a small but powerful magnet which can be used to easily retrieve any old batteries from the hearing aid and then easily drop another in its place making what can be a very tricky chore quite an easy task.
Astonishingly right now you can whip up a bargain by grabbing this product from us at an outstanding price of only £6.46 inc VAT and if you feel like it may be the time to top up on batteries, you can check out our Hearing Aid Batteries Range on our Online Shop. Also, you might need this nifty little gem: Rayovac Digital Hearing Aid Battery Tester.