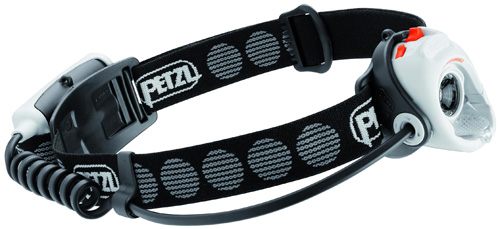 Today, we are looking at the Petzl MYO RXP headlamp, a masterpiece of both design and style. The MYO RXP is for anyone who is serious about headlamps and enjoys activities where light is essential.
With the MYO RXP the user is easily able to adapt the light output by choosing one of many settings ranging from 8 to 140 lumens, with the added bonus of a boost function which can give up to 160 lumens of intense light.
To optimise performance the MYO RXP is compatible with lithium batteries which means that in extreme conditions such as freezing cold, performance is still optimum and the headlamp can perform at its full. Light indicators let the user know when the battery levels are at 30% and 10% charge so the user is always in tune knowing when they need to replace any batteries or if indeed they too at all saying as the MYO RXP has an average battery life of an incredible 95 hours on the first setting of the headlamp!
The batteries needed for use are simply 3 x AA cells which are included with the product and if any additional batteries did need to be purchased you can check out our AA Batteries Range on our Online Shop.
Finally, the MYO RXP does not only have a wide angle lens meaning changing from a spot to flood beam couldn't be easier, but it is also water resistant to make life easy and simple.
You can currently snap up this product for an incredible £63.45 Inc. VAT! but if you feel like you don't need as many features in a headlamp you can check out our entire Petzl Range on our Online Shop.