Introducing Petzl's solution to purchasing new batteries for any headlamp you may own from the TIKKA 2, ZIPKA 2 and the TIKKINA 2 range in the form of the Petzl CORE!
The basic idea is a simple rechargeable battery pack that will save you having to constantly carry around/purchase new batteries for your Petzl headlamp and on average this can mean a saving of purchasing 900 AAA cells for the lifetime of their headlamp, that's an astonishing saving!
The pack inserts between the standard front and back, where the batteries usually sit and whilst it may add a little bulk over disposable batteries (pictured below) it actually weighs less!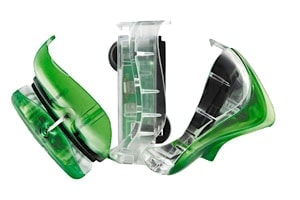 On average the CORE battery pack will last 300 charging cycles (this is where the 900 AAA cells would have been!) and it comes with a USB connection for ease of charging around any computer or peripheral device which supports USB charging. An additional charging kit for wall sockets can be purchased additionally here, but for the majority of people USB charging is just as good if not more efficient for them.
This product can be programmed using Petzl's own CORTEX software. Using this software in conjunction with the Petzl CORE allows for the optimisation of the battery pack based upon individual needs.
For the true techies you can expand the detailed specification for the Petzl CORE below:
Compatible with the whole TIKKA 2, ZIPKA 2 and TIKKINA 2 range
Fits standard USB port
Rechargeable up to 300 times (equivalent to 900 AAA batteries) before any performance drop
CORTEX software allows personal optimisation of your head-torch
Lithium Ion Polymer technology – gives excellent performance at low temperatures
3 LED battery charge indicator
3 year guarantee or 300 charging cycles
We are currently selling the Petzl CORE for the incredibly low price of just £30.62 inc VAT! (That's nothing compared to the equivalent option of 900 AAA cells!)
Please feel to check out our entire Petzl Range on our Online Shop.