The LED Lenser P7 is truly ahead of its class in terms of lighting, style and functionality. Featured in the Sunday Times on the 7th October and being crowned the best buy, the Test Bench team for the Sunday Times had this to say about the LED Lenser P7 (8407) Professional Torch:
"This torch easily outguns its rivals for power and flexibility"
The above quote comes from the professionals who use equipment like this on a daily basis.
Simply holding this torch you are able to see the sheer amount of effort LED Lenser have put into their product to ensure it truly is the best in what it does. Featuring a spot to flood beam with an advanced focus system, the P7 enables the user to have 200 lumens of focusable light (see the below image for clarity) with an outstanding battery life of 130 hours amazingly from just four AAA batteries!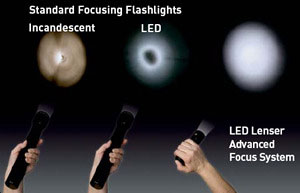 Encased in a lightweight aircraft aluminium casing the P7 has a burn time of up to 64 hours as well as an effective range of 711 feet! This torch uses a quick cycle switch system where if the button is held the maximum light is shone, then if the button is clicked once a high amount of light is displayed, followed by a low amount of light after another click.
After reading the above we don't believe it's possible for you not to want this torch on your duty belt or even in your car for those breakdowns on a pitch black night, but if you're thinking that the above specifications will come with a high street price tag you'd be wrong as you can currently grab an LED Lenser P7 torch from us for the outstanding price of just £49.97 inc VAT!
Also, if you happened to be wondering if this torch was available in anything other than black, we do stock a grey titanium version of the P7 for the same price: LED Lenser P7 (8407G) Professional Titanium Torch (Gift Box)