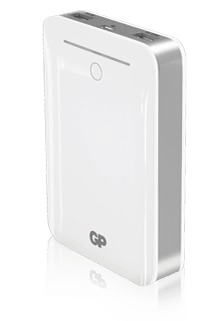 We've all been there, you need to use your phone to check on texts or emails and then suddenly at the most inappropriate time, it dies on you. Usually there would be nothing you could do at this point, but thanks to GP Batteries that's all about to change!
The Portable PowerBank is a new exciting range of portable chargers for your electronic devices from GP Batteries. The idea behind these is that you charge them via USB at home, just like you would charge your phone or tablet. Then when your phone battery dies or is running low, simply plug it into the Portable PowerBank for charging, keeping you with power until you get home, with some of the larger models providing your device with a substantial amount of charge.
With the recent release of the Portable PowerBank Cell Pack Solutions are acting fast to secure three different models; the GP322A, the GL343 and the GL301. These have 2500mAh, 4000mAh and 10400mAh batteries respectively. The higher end GL301 is recommended for those wishing to charge Tablets such as iPads or the Samsung Galaxy Tab.
These fantastic items will be with us very shortly so please "watch this space" – when they do arrive I'm sure you'll agree they are a fantastic bargain!