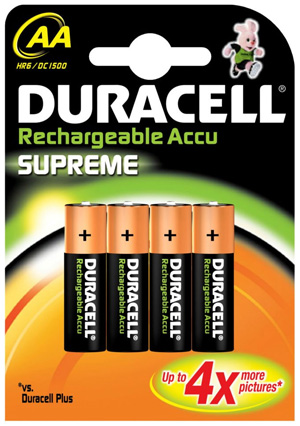 The Duracell Supreme AA rechargeable batteries are a fantastic choice for everyday use in electrical equipment such as remote controls, cameras and toys. They have a capacity of 2450mAh which is outstanding for rechargeable cells such as these and without a recharge they can take up to four times more photos in the same digital camera compared to Duracell Plus batteries.
These four AA batteries are a NiMH cell and can be recharged hundreds of times before they even remotely stop holding their charge. This, along with the fact that currently a pack of four Duracell Supreme AA batteries will only set you back a measly £5.10 inc VAT from us, compared to the £10.20 RRP (that's half the recommended retail price!) is reason enough to purchase these cells for all of your AA battery needs.
If you think you may like to purchase a battery charger to keep your batteries in tip top shape, please check out our entire range of Duracell Battery Chargers.