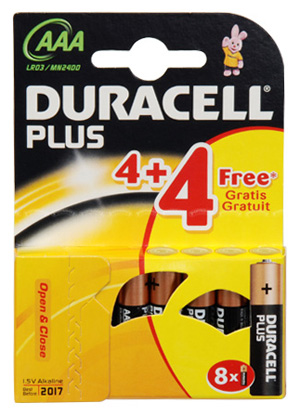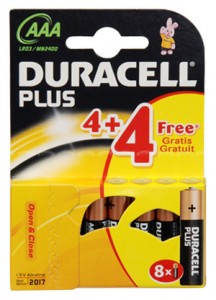 We have been receiving these fantastic value packs of 4 + 4 Free Duracell Plus AAA batteries recently from Duracell. These new multi-packs mean that while you are only paying for four batteries, you'll get eight!
Due to recent redevelopment of the Duracell Plus range they have better life than ever and are probably the best cell by Duracell for general everyday use.
Offering the best performance in low-temperature environments, the Duracell AAA battery will provide sufficient power to keep your remote controls and toys going for weeks on end and due to a great shelf life these batteries will not simply drain themselves if you do not use them all as soon as you purchase them!
You can currently get this outstanding deal for only £2.99 inc VAT! (Remember that's eight batteries not four which is all you pay for!)
However, if you feel that you are better suited to some rechargeable cells then you can check out our entire Duracell Rechargeable Batteries Range on our Online Shop. You can also accompany your purchase of rechargeable batteries with a new charger if you wish, you can check out our entire Duracell Battery Chargers Range.
Remember while stocks last, a free Duracell Instant Charger is posted along with the purchase of any Duracell Battery Charger, so get buying now!