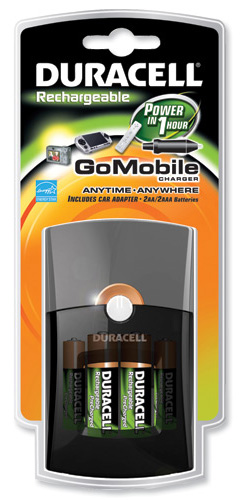 The Duracell 1 Hour Mobile Charger comes complete with two AA 2000mAh and two AAA 800mAh ActiveCharge batteries, which is the same technology as the StayCharged batteries from Duracell.
Naturally this charger can charge both AA and AAA cells (four of either or a mix of the two) and comes with built in overcharge protection for your own peace of mind whilst all of your batteries are left safely to charge. The reason why this charger in particular is so special however, is that it comes with an in car adapter, to bring all of your charging apparatus with you wherever you are on the go and if you're someone who travels a lot I'd definitely recommend that you grab a bargain with this charger!
Cell Pack Solutions understand that chargers such as this one can cost an utter fortune in the high street, so why don't get yourself an amazing bargain on this charger for the price of just £27.61 inc VAT!
If you're quick while stocks last were giving away a free Duracell Instant Charger with every purchase of a Duracell battery charger so get yourself down to Cell Pack Solutions or visit or visit our Online Shop!
Additionally if you feel like this isn't the right Duracell charger for you, why don't you check out our Duracell Battery Chargers Range, or if you simply need additional batteries, check out our Duracell Rechargeable Batteries Range.