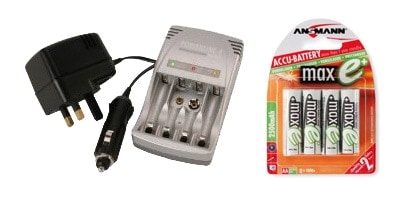 The products on our website's deal of the month can usually be bought at a steal of a price. This month the offer is no exception.
This month here at Cell Pack Solutions our deal is this:
Ansmann Powerline 4 Mobil Battery Charger
Ansmann maxE+ 4 x AA 2500mAh Rechargeable Batteries
Get all of this for a limited time only at the special price of £19.39, yes only £19.39!
If you appreciate rechargeable batteries then you will know the potential of the maxE range and how that maxE+ cells such as the 300 mAh PP3 or the included 2500 mAh AA's offer incredible performance with high capacities and an incredibly low self discharge rate!
The charger itself is a steal in this bargain, as the Powerline range has always been a successful product from Ansmann and as well as being able to charge the included cells this charger can also charge any 2 to 4 AA/AAA cells as well as 1 PP3 (9V) cell.
Be quick while stocks last on this incredible bargain!