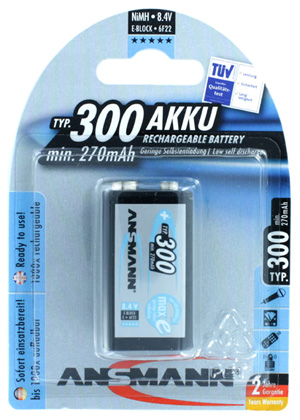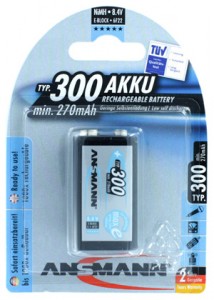 Last October, I posted about Ansmann maxE+ PP3 (8.4V) 250mAh Rechargeable Battery and if you remember I praised this cell recognising Ansmann's commitment to quality. Recently, Ansmann have outdone themselves again, introducing to us the new Ansmann maxE PP3 (8.4V) 300mAh Rechargeable Battery.
Ansmann claim that this new and improved PP3 Block, with an extra 50 mAh than the previous version, can last up to twice as long. Ansmann also say that in a device such as a smoke alarm this cell can be on stand-by for up to one entire year without the need to recharge it, outstanding performance from Ansmann again!
Of course with these claims and the fact that Ansmann maxE cells are pre-charged means that this can all be done without the need to even charge the cell in the first place!
maxE cells are not only known for being pre-charged yet also is renowned for their low self-discharge rates and high current source.
Currently the new Ansmann maxE PP3 (8.4V) 300mAh Rechargeable Battery will only set you back a measly £9.90 inc VAT! That's fantastic value for if you were to place in a smoke alarm, especially considering how you wouldn't have to touch it again for up to one year!
If you are after some AA, AAA or even C or D size maxE cells you can check out our entire Ansmann maxE Rechargeable Batteries Range on our Online Shop.