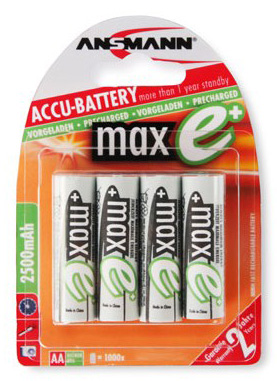 The end of 2009 and beginning of 2010 has brought new products from Ansmann in the form of longer lasting rechargeable batteries from the maxE range with the "maxE+" being introduced.
Cell Pack Solutions are one of the first companies in the UK to have these batteries available and are already a huge hit with its customers looking for top quality, reliable rechargeable batteries. The Ansmann maxE+ AA Rechargeable Batteries offers benefits such as:
More than 1 year standby
2500mAh capacity, 1.2V NiMH cells
Up to 1000 times rechargeable
Very low self discharge
High current output
Cost-effective and environmentally friendly
Pre-charged and ready to use right away
2 year warranty guarantee
These AA batteries are commonly used for a number of different applications such as MP3 players, torches, digital cameras and clocks. The new accu-battery range now adds an extra 20% utilisation time of your applications and they do not require any special charger. They can be charged from a standard NiMH Battery Charger and can be bought form Cell Pack Solutions for only £11.47 inc VAT!