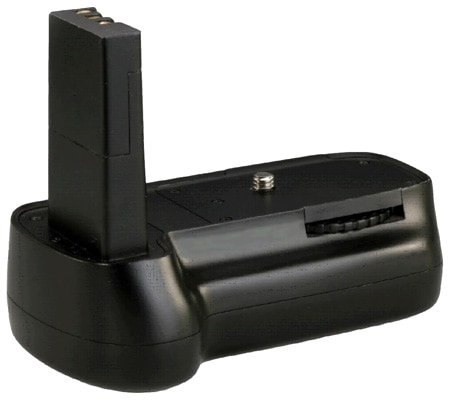 Pick up a real bargain today, ideal for those of you that are really discerning camera enthusiasts.
A battery grip with integral battery and charger for the Nikon D40, D40X and D60 cameras. The Nikon D40 was one of the first Digital SLR Cameras on the market. The battery is a high capacity Li-ion type that offers an extended battery life compared to many cheap alternatives on the market.
This battery grip is a powerful and versatile accessory for the Nikon D40, D40X or D60 cameras. It replaces the standard battery source with its own built-in, rechargeable, high-capacity battery pack (non-removable). In addition, it provides a vertical grip, which makes vertical shooting as easy as horizontal shooting. The rechargeable Li-ion 2100mAh battery eliminates the need of having to charge and carry around multiple battery clusters. The built-in battery can be used for thousands of pictures before having to be recharged.
Features:
Built-in 7.4V 2100mAh rechargeable Li-ion battery
Increase your shooting capacity on a single charge
Battery grip includes UK charger (230V)
Provides a tripod mounting thread so you can still mount the camera with the battery grip attached